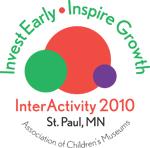 The NISE Network will be offering a pre-conference workshop on nano in children's museums on Wednesday May 5th, 8:30am-4pm. Conference registration is now open. http://www.childrensmuseums.org/index.htm
The NISE Network will also have a booth during the exhibit hall as well as participate in several sessions.
Pre-Conference Workshop:
Big Thoughts about Super-Small: Nano in Children's Museums
WEDNESDAY, MAY 5 8:30 a.m. – 4:00 p.m.
Workshop spaces and travel subsidy funding still available! For museum professionals only. Pre-registration required; cost $25; includes breakfast, lunch, snack and all workshop materials. Travel scholarships available; email Krystal Willeby at kwilleby@cmhouston.org for information. This offsite workshop will be held at the Science Museum of Minnesota, a short three block walk from the Crowne Plaza Saint Paul-Riverfront Hotel. All workshop participants should meet in the hotel lobby and be prepared to leave at 8:15 a.m. Children visiting museums today will be the scientists, educators and law-makers of tomorrow. Come learn how to excite young children about nanotechnology with age-appropriate programs. This pre-conference workshop will introduce children's museum staffers to the concepts around nanotechnology and nanoscale as well as share many nano-related activities that are ideal in a children's museum setting. Content for this workshop is presented by members of Nanoscale Informal Science Education Network (NISE Net), a group of museum professionals (including children's museum professionals) that develop nanotech-related resources for museums.
Come for a fun-filled day of nano-learning the children's museum way!
Preliminary Agenda 8:30 a.m. 9:00 a.m.
Breakfast 9:00 a.m. – 10:00 a.m.
Introduction to Nano 10:00 a.m. 11:00 a.m.
Demos and Puppet Shows 11:00 a.m. – 12:30 p.m.
Hands-on Activities 12:30 p.m. 1:30 p.m.
Lunch and Meet Nano Scientists 1:30 p.m. - 3:00 p.m.
Team Up to Develop a Nano Activity 3:00 p.m. 3:15 p.m.
Break 3:15 p.m. – 4:00 p.m.
Idea Sharing and Q & A