Just eight years after Binnig and Rohrer used the STM to observe surfaces at the atomic scale, Donald Eigler and Erhard Schweizer at IBM's Almaden Research Center first used the STM to manipulate individual atoms. They discovered that they could bring the tip of the probe just close enough to an atom for the atom to stick to it. Then if they moved the tip horizontally, it dragged the atom along with it.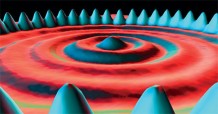 [1]Quantum Corral: This intriguing nanoscale image, called the Quantum Corral, was created by Donald Eigler, Michael Crommie, and Christopher Lutz in 1993 at IBM's Almaden Research Center. This additional ability of the STM opens up an entirely new range of possibilities. If atoms can be moved around, then molecules can be constructed or altered. And materials for products as diverse as integrated circuits and biomedical devices could be created specifically for the function they need to perform.
The STM may be conceptually simple, but there are complexities in its use. For instance, a small vibration, even a sound, could smash the tip and the sample together. The STM needs to be in a vacuum chamber, which isolates it from vibrations. The vacuum chamber also protects against contamination. A single dust particle, for example, could damage the needle.