Advances in Partnerships and Conjugates: the Fall MRS Meeting
December 4, 2009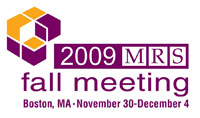 Partnerships between nano and materials research centers and science museums are well and thriving, as evidenced by a round of talks delivered at the Fall 09 MRS Meeting "Materials Education Symposium," curated by NISE Net friends  Eric Marshall and Julie Nucci in honor of  Stanford's Marni Goldman.  The panel on partnerships was put together by the NISE Net's Rae Ostman, and it highlighted seven specific education outreach partnerships:  
Harvey Mudd College and MRS education activitist Professor Shenda Baker reviewed the genesis and ongoing tour of the MRS's wildly successful "Strange Matter" exhibit, now - like the Mars Rover - continuing to do its job several years beyond its planned expiration date.   Jayatri Das outlined the increasing growth and capacity of The Franklin's Institute's long-term partnership with Penn State, despite the grueling three-hour drive between Philadelphia and State College in central Pennsylvania.  Catherine McCarthy reviewed the development of the traveling exhibit "It's a Nanoworld" and the follow-on project "Too Small Too See," produced by the Ithaca Sciencenter in collaboration with the Cornell NanoBioTechnology Center and Painted Universe.  Keith Ostfield described the Children's Museum of Houston's more recent collaboration with Rice University's CBEN (Center for Biological and Environmental Nanotechnology) to produce a new permanent exhibit, which builds on some of the themes initially explored by Ithaca.  Mike Rathbun of Discovery Science Center and Andrew Greenberg of the Institute of Chemical Education and the Wisconsin-Madison Nanoscale Science and Engineering Center provided a delightful in-tandem embodied simulation of their thriving partnership, which is building a carbon playground (fun!) and a set of versatile library kiosks on nanotechnology; these include Andrew's "feel-the-nano" tribute to the sight-impaired.  Lisa Regalla described Twin City Public Television's Dragonfly Nano TV partnerships with multiple science museums which served as cast recruiters, filming sites and links to nearby nano research centers.  Rae put me in the field in mop-up position, introducing the NISE Net's RISE strategy and resources, skimming the Museum of Science's nine-year collaboration with two Boston-Cambridge based NSECs, and presenting the Cliff Notes version of research data on our most recent initiative -  science communication workshops for graduate and undergraduate research students.  It was quite heartening to see that all of the nanoscience education pioneers who participated in this session have become integral contributors to the NISE Network and have helped recruit many new science museums and researchers to the general cause of nano and materials science literacy.
Other NISE Net members and friends participating in the Materials Education Symposium included Larry Bell, Rob Semper, Margaret Glass, Ethan Allen, Greta Zenner, Kim Duncan, Wendy Crone, Amy Moll, Nancy Healy, and Daniel Steinberg.  Many thanks to Richard Souza, who coordinated NISE participation at MRS and arranged the Education Showcase and the convention hall tables for NISE Net, NanoDays, and the Museum of Science. Here, many more NISE Net members and friends engaged conference participants -some without the benefit of a $465 conference badge:  including Karen Pollard, Frank Kusiak, Alex Fiorentino, Karine Thate, Jeanne Antill, Tim Miller, Kathryn Hollar, and Tracy Puccinelli.   (Applause.)
Now for the conjugate part, which has to do with nanomedicine:
Chad Mirkin delivered the Kavli Distinguished Lectureship in Nanoscience on Sunday evening.  He gave a terrific talk on using bits of DNA to guide the step-by-step structure and assembly of gold nanoparticles (AuNPs) that can get through the immune system, penetrate cancer cells and deliver nucleic acids designed to shut down the cells' ability to manufacture disease-causing proteins.  He calls these nanoscale devices "polyvalent gold nanoparticle conjugates." Because these babies are so successful at getting themselves engulfed into lots of different cells (mostly by endocytosis), at present they are only being used for highly-localized targets, like deadly glioblastoma brain cancer cells left behind following surgery.  Mirkin is optimistic that this approach to intracellular gene regulation will lead to many new breakthroughs in medicine, and he celebrated the wonderful world of gold nanoparticles, whose flexible surface chemistry and biocompatible nature make them worth far more than their nanoscale weight in gold.