ASTC to Announce Support for a PES Community of Practice
October 5, 2011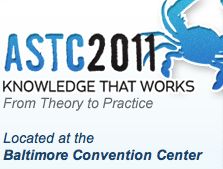 ASTC is going to announce its support for a Community of Practice around Public Engagement with Science at the upcoming ASTC conference in an open session on Sunday, October 16, at 10:30 AM in room 315 at the convention center. (Note: this is the correct room, not the one listed in the printed program.) All are invited to attend. In our field we use public engagement with science to mean just about everything we do and we use it in the NISE Net to mean pretty much all of our activities that involve the public.  But in this PES CoP we mean "activities, events, or interactions characterized by mutual learning—not one-way transmission from 'experts' to publics—among people of varied backgrounds, scientific expertise, and life experiences who articulate and discuss their perspectives, ideas, knowledge, and values" as decribed in the CAISE report Many Experts, Many Audiences: Public Engagement with Science.
The goal of the Public Engagement with Science Community of Practice is to help informal science education institutions become more valuable to their communities by helping publics and scientists engage in issues and content where science, policy, and public aspirations about their local, national, and global communities intersect.  In the coming months ASTC will set up an infrastructure to support a PES community of practice and help members of the community share knowledge with each other about their work.
The session on the 16th will be an opportunity to provide input to ASTC about the specific direction of their support for the CoP.
Some members of the NISE Net community first got involved with this kind of public engagement throught NISE Net forum programs.  I always thought of those programs as practice for us in learning how to conduct citizen consultations and the kind of multi-directional learning experiences that characterize PES.  And for the public, I thought of it as practice in engaging in deliberation about issues involving science and public policy.  The audience for this did not seem to be people pulled off the floor for a family visit to the science museum but rather folks who would come specifically for this kind of activity.  We've referred to them at different times as science-attentive or socially-aware adults.
At the recent symposium on Risk organized by Andrew Maynard at the University of Michigan, James Wilsdon, Director of the Royal Society Science Policy Centre in the UK, presented an interesting chart about people's interest in being involved in science and technology policy.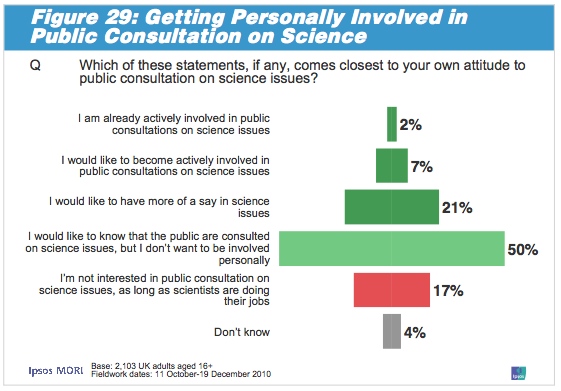 This is UK data not US data, which may be different as there has been a greater focus on public consultation in the UK than there has been in the US at this point.  But nonetheless, I think it is interesting.  About 30% say they are involved, would like to be involved, or want to have more of a say on science issues.  Then 50% say that they want to know that the public are consulted on science issues but don't want to do it themselves.  And only 17% say to just leave it all up to the scientists.  (You can see Wilsdon's talk on the history of public engagement in the UK, lightning rods, nanotechnology, and geoengineering here  https://vimeo.com/29889177. Though there are many people in the room, the angle of the cameras feature frequent shots of Rae and me at this conference.)
So if this data is similar in the US, there is a sizable audience that wants to be involved -- more than we could accommodate -- and an even larger audience that wants to know that these public consultations are taking place.