April 6, 2015
Christina Akers
Oh no! It's after NanoDays and your office looks like this! 
So many boxes, so little time! Tape is so sticky, and cardboard is a deathtrap for dry hands! But thanks to the latest in Nano-kit-storage-technology, you can turn this mess into this: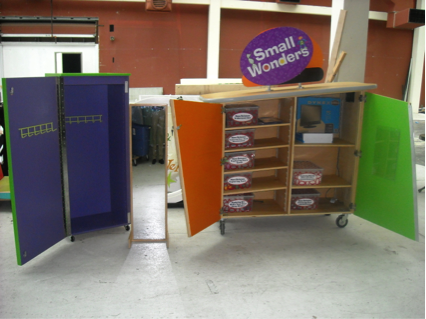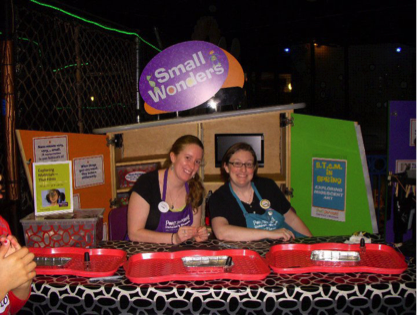 Just look at those happy faces!!!
Despite the great joy we all experience when opening the Russian Nesting Doll that is the NanoDays physical kit, once all those smaller boxes come out they will NEVER GO BACK IN THE SAME WAY! Moreover, smaller boxes can too easily get lost in closets where they rarely get to see the light of day. If you want to cleanup the post NanoDays mess while also making materials more accessible for year round use, here are some examples from inventive partners, like Port Discovery Children's Museum in Baltimore, MD (pictured above).
For Port Discovery, they identified their needs:  to better organize NanoDays materials, to make kits more accessible to staff, and also to use their Nano mini-exhibition as a platform for this programming to be done regularly in their museum. So with a NISE Net mini-grant, staff created two rolling cabinets. One is the "Small Wonders" cart, which houses all the NanoDays kit activities in clearly labeled plastic bins. The other serves as a "Dress-up like a Nanoscientist" activity station, where real clean room suits are available to be tried on by museum visitors.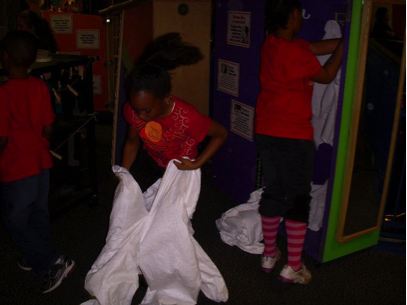 Though both storage areas are on wheels, these live mainly in the Nano mini-exhibition. By keeping them in the exhibition at all times, museum staff can always find an activity to use on the floor with the exhibition. Also, since the doors close, they simply added small locks to the outside of each cart to keep inquisitive visitors out of materials when facilitators are not on hand.
For those interested in successful storage options on a smaller scale, SciWorks in Winston-Salem, NC brings us another great example of a partner who has found a way to organize their kit resources while also making them more accessible to floor staff.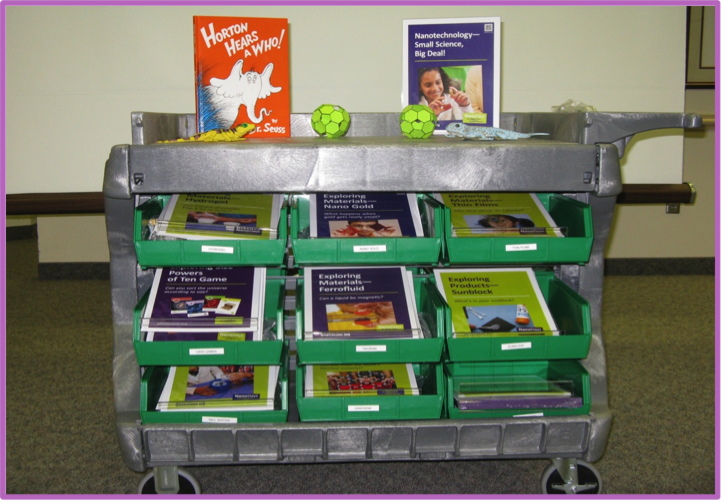 Behold the SciWorks NanoDays Cart! This cart was funded and functions in much the same way as the previous, though this one not only houses the kit activities and rolls right onto the museum floor…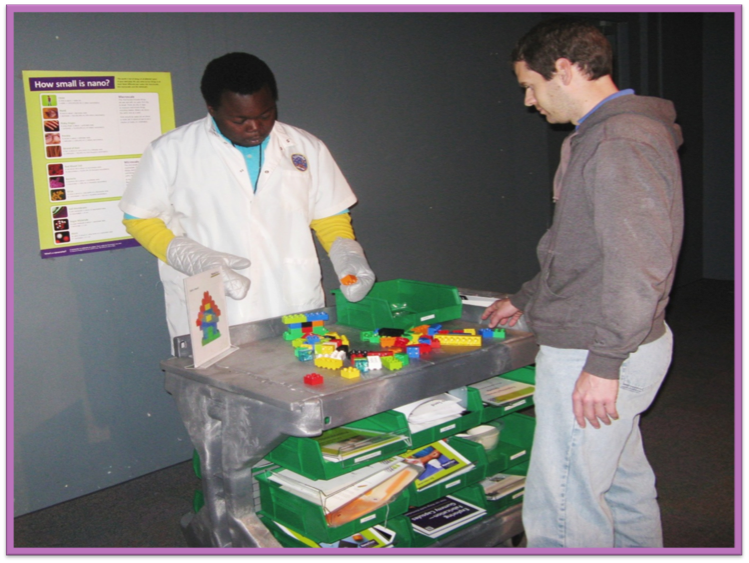 …but the cart itself is a great height to work with these activities with museum visitors!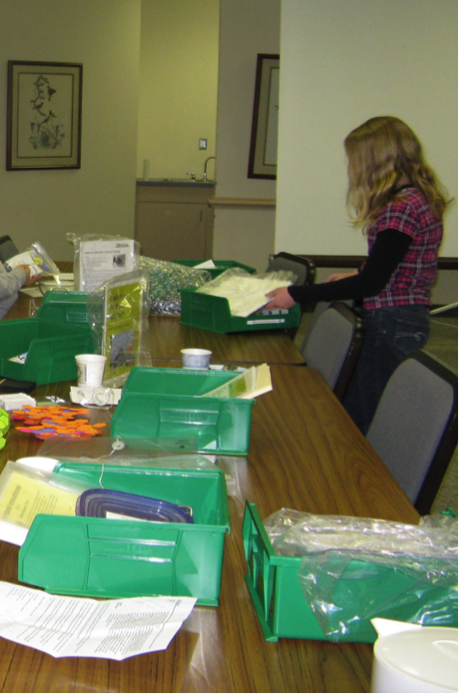 Staff training is also made easier; just roll the card in, distribute the bins and never worry about "where do I put/find this" questions again!
Science Central in Fort Wayne, IN created another great cart with NISE Net mini-grant funds. Their simple design combines aspects of both the previously mentioned carts:  a table-top surface to use when presenting activities to visitors, and concealing doors to keep materials safe and contained until use with visitors.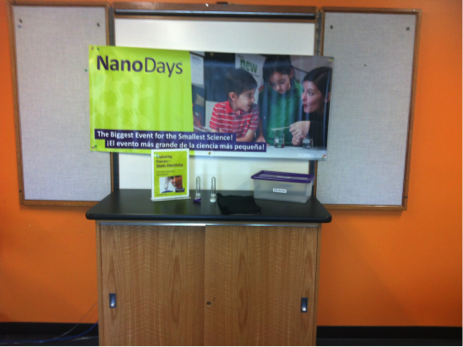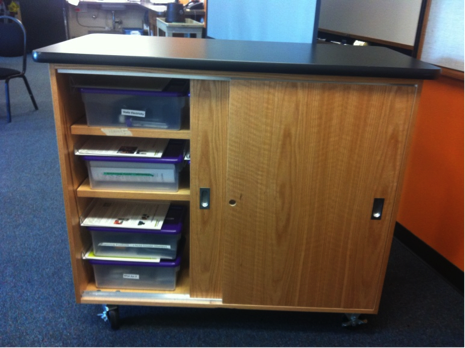 If you don't have the funds or time to invest in a cart, some partners have used simple shelving solutions to store kits accessibly for all. The key is to ensure all materials for each activity are contained in one clearly labeled box/bin. Wherever these materials live, make certain that all staff that might use them know where to find them and can easy access them at anytime. 
The best way to avoid piles of boxes in your office space is to keep those activities in use on your floor! If you really want to make certain all those boxes are put to good use, be sure you find the storage solution that works best for you and your staff. Hopefully, you can avoid this unorganized mess and have some great nano programming on your floor year-round!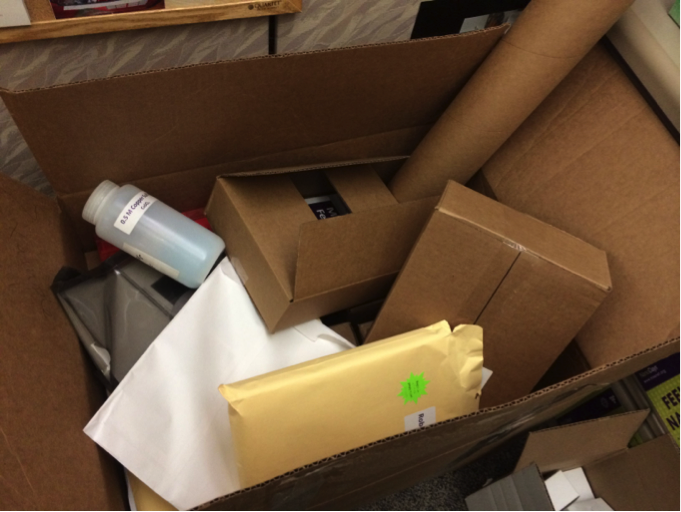 ---
Ways to use NanoDays activities all year long: