Building connections between social science and informal science education
July 15, 2009
Members of the NISE Net Program group and faculty and students at the Center for Nanotechnology in Society at Arizona State University are teaming up to demonstrate and discuss potential collaborations between the social science community and the informal science education community at a conference of the Society for the Study of Nanoscience and Emerging Technologies in Seattle in early September.
In 2005 when the NISE Net was launched, the NSF also funded several centers to focus on societal implications of nanotechnology – one headquartered at the University of South Carolina, one at the University of California at Santa Barbara, and one at Arizona State University. These three centers are all independent and each has partners of its own, but there are also a few networks designed to build connections between the researchers, including a new organization called the S.NET, the Society for the Study of Nanoscience and Emerging Technologies, and its first conference will take place in Seattle right after Labor Day, September 8-11.
Several activities at the S.NET conference will explore ways for science museums to partner with social science researchers. One of the most visible will be an activity coordinated for the NISE Net by of the Sciencenter in Ithaca. Rae head's the NISE Net's program team. She's worked with Jamey Wetmore at ASU's Center for Nanotechnology in Society to organize a showcase of activities at the Pacific Science Center on Labor Day and at the conference's opening reception on Tuesday, September 8. The focus will be cart demos that address societal implications of nanotechnology in some way. Jamey and his colleague Ira Bennet have incorporated projects in which students develop public demos about nanotechnology into two classes they teach at ASU.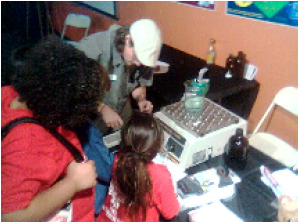 Last year they developed a successful demonstration about nano silver socks. A couple student demos and a couple NISE Net demos will be presented at PSC so all involved can see how the public responds to them, and then shown off at the conference the next day so that conference participants can see them. Jamey would like to try to make this a regular feature of the S. NET conference, with students from different universities presenting demos they've developed.
There will also be a round table discussion during the conference about including social science content in the work we do in science museums, and on ways in which social scientists and science museums can collaborate to build upon the work of each other.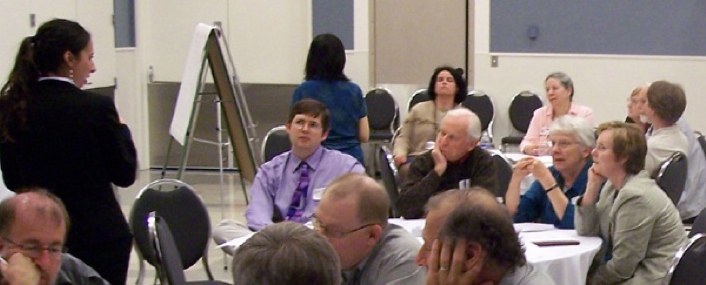 Clark Miller from ASU was recently in Boston and we talked about a number of potential collaborations. Clark suggested building on the work of the NISE Net's Forum team to explore with us how social scientists' concept of "anticipatory governance" can be supported through forums at science museums. Another collaboration involves working with Michael Cobb at North Carolina State University to get a grant to study the impact on policymakers of the Museum of Science's Cambridge Nano Forums, which have been conducted in collaboration with the Cambridge Department of Public Health. At my suggestion a couple years ago, Clark and others at ASU drafted a set of big ideas in nanotechnology and society, which they hoped could help guild educational activities in both formal and informal areas. One possible collaboration between the NISE Net and the CNS at ASU would be to take the big ideas to the level of specific concrete informal educational activities that help address those ideas. Another involves getting social science content into k-12 classrooms perhaps in connection with engineering education.
I think there are great opportunities collaborations between the social science community and science museums. Several NISE Net colleagues and I started a discussion of this at the October 2008 conference of the Association of Science Technology Centers and we'll pick that conversation up again at this year's conference (Oct. 30 – Nov 2). The current issue of Museums and Social Issues includes an article I wrote about some of the possibilities, and several other interesting articles on "Science and Civic Life".