Creating Conversations about Synthetic Biology Through Nationwide Building with Biology Events
November 5, 2015
Envisioning a new kind of museum conversation
With the pilot year of the Building with Biology project now complete, we are excited to share with the community the experiences and accomplishments achieved throughout this initial year. Building with Biology - Activities and Conversations about Synthetic Biology - is a project that incorporates much of the knowledge and experiences gained through the NISE Network as a way to expand public education and outreach around a fast-growing research field - synthetic biology.
This project has brought together leading institutions in the fields of informal science education, science communication, and research to collaborate around synthetic biology, which as a field is still defining itself. Although the exact definition of synthetic biology may still be somewhat fluid, the science is moving forward at an astonishing pace. As new techniques, innovations, and products are created through science, in particular by engineering biology, it's important to have an engaged public that is able to contribute to discussions around the societal implications of synthetic biology.
With a growing trend within science museums of slowly shifting focus from one-way dialogue (i.e., the museum professionals and scientists presenting to an audience) to more mutual, multi-directional conversations and learning (i.e., museum professionals and scientists engaging with the public in conversations around science), museums are more often being viewed "as instruments for social change with a sense of purpose centered on education and visitors" (Nature Nanotechnology, 2014).
Pilot summer 2015 Building with Biology events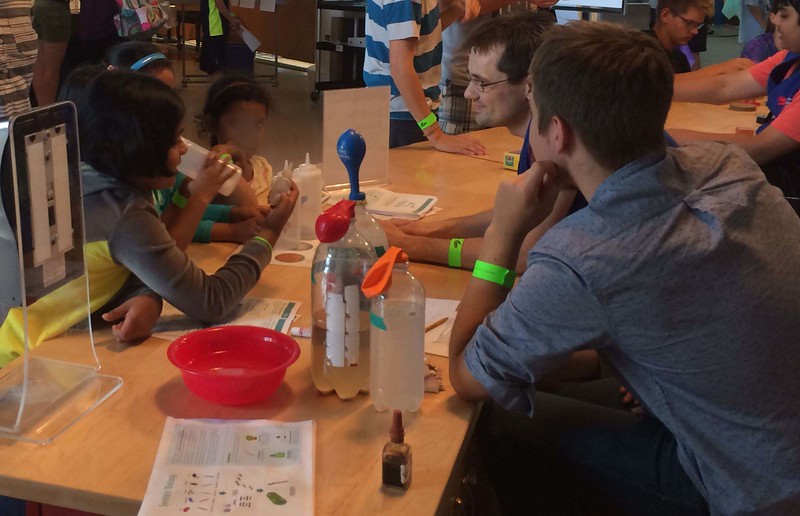 Building with Biology aims to create conversations in science centers/museums among scientists (including engineers and other researchers) and public audiences about this emerging research field. This past summer, eight pilot Building with Biology events took place at science centers/museums across the U.S. Each of the host sites utilized a Building with Biology physical kit comprised of prototype hands-on activities and public forums designed to move interactions between scientists and the public about synthetic biology towards the public engagement with science model, emphasizing multi-directional learning between scientists and the public. Did we mention that all the prototype hands-on activities were collaboratively developed by our 12 project science centers/museums partners and their partnering scientists, providing robust science in a fun, educational, and engaging way!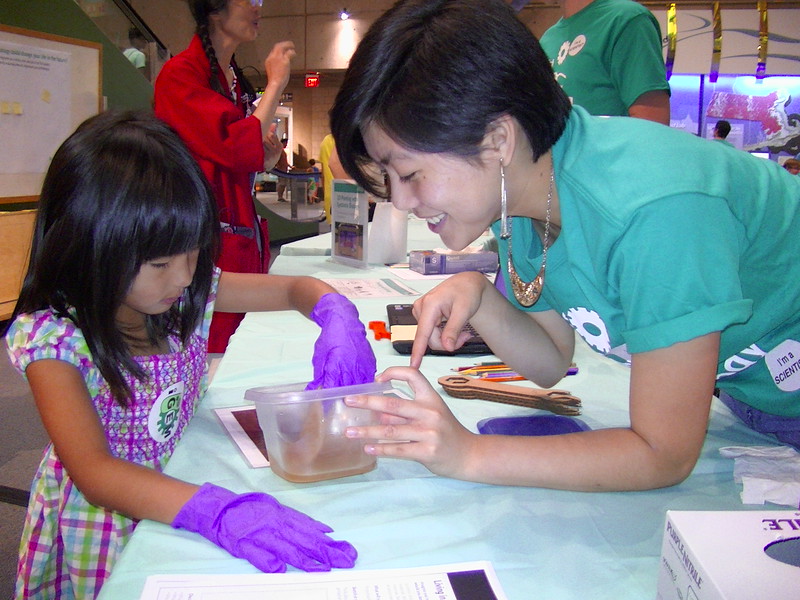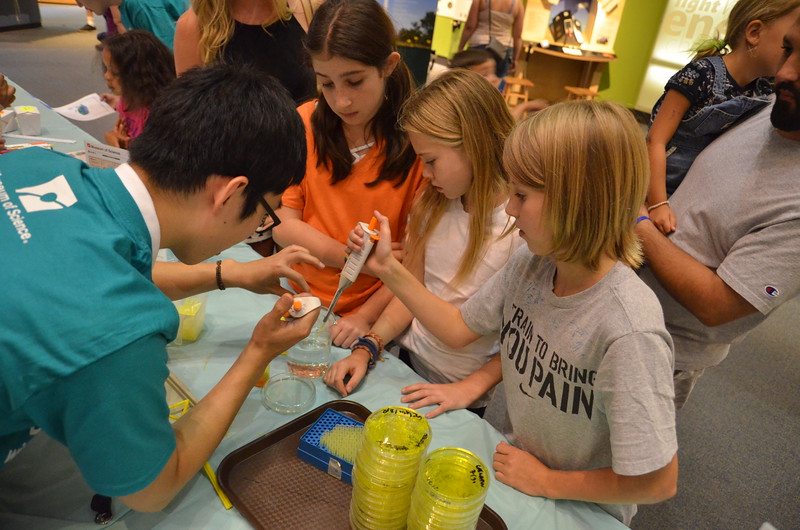 Pictures: Left two images from 2015 Building with Biology event at the Museum of Science, Boston; upper right image from event at the Science Museum of Minnesota
Expanding Building with Biology events from eight locations to 200 sites for summer 2016
Since the completion of this past summer's events, prototype hands-on activities and forums are currently in the process of being reviewed and revised based on event volunteer (staff and scientist) and public feedback, which the NISE Network has found pivotal in the design process for creating quality educational materials. A Building with Biology physical kit is being designed that museum professionals and scientists alike can use to help foster conversations with the public around synthetic biology during the summer of 2016 to host their very own Building with Biology events.
How to get involved
As a science museum/center you may be interested in hosting an event, as a scientist you may be interested in volunteering at an event (or potentially hosting an event), or as a member of the public you may be seeking more information about what synthetic biology is and how to participate in an event.
Two-hundred (200) free physical kits will be awarded to successful applicants to be used in summer 2016 Building with Biology Events and Conversations nationwide. Kits will include:
Hands-on activities and programs to stimulate conversations among scientists and publics, and
Professional development and collaboration materials.
More detailed project information will be made available online at http://www.buildingwithbiology.org/get-involved, including eligibility requirements and instructions for how to apply for a 2016 Building with Biology free physical kit.
The Building with Biology kit application will be available online mid-November, but in the meantime please fill out an Expression of Interest online form so we can follow up with you once this is posted!
Additional resources and support
Building with Biology Regional Hub Leaders (same hub structure as NISE Network) will also be able to help facilitate partner interactions and help informal science educators connect with research institutions and scientists, and to each other. For general inquiries, please email buildingwithbiology@mos.org.
We also encourage you to start connecting with synthetic biology scientists and researchers, or a related field (e.g., engineering biology), in your community. Some great resources to start looking into are local universities with synthetic biology or engineering biology departments, industries, the Synthetic Biology Engineering Research Center (Synberc), DIY synbio labs, and iGEM, an organization made up of student teams (high school and undergraduate level) across the world interested in the field of synthetic biology.
---
Sources
Nature Nanotechnology 9, 724 (2014). doi: 10.1038/nnano.2014.191. Published online 03 September 2014