An excellent source of online resources for public engagement is the National Coalition for Dialogue and Deliberation (NCDD)
November 1, 2010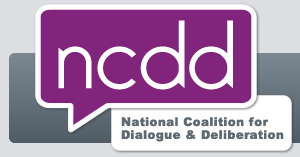 Keynote addresses by Andrew Maynard and Kathy Sykes at the recent Network-Wide Meeting of the NISE Net, and sessions and workshops on addressing societal, environmental, and ethical issues in connection with nanoscale science, engineering, and technology, may have left attendees looking for ideas about how to build public engagement into their program activities.
Following the NISE Net's Network-Wide Meeting in San Francisco, I attended a one-day workshop put on by the NCDD in Cupertino. Attendees were mostly people from government who have a need to engage with their public and practitioners of dialogue and deliberation who could help them do that. I went to see if I could find others doing public engagement with science and technology policy and to see what kinds of techniques the NCDD uses that we might be able to adapt into a program or exhibit format in informal science education.
I really didn't find folks at the Cupertino workshop who were engaging people in science and technology policy, although Liz Kollmann says she found some at a similar workshop in Boston on the same day. But I did find a rich set of resources for learning about "engagement streams" and information about 22 proven practices in engagement, with web addresses of the primary sources for information about the particular technique cited, at http://ncdd.org/rc/beginners-guide.
NISE Net Forums were a spin-off of Consensus Conferences and National Issues Forums, two of the 22 practices described. These are both aimed at decision-making. But others are aimed at "exploration", "conflict transformation", and "collaborative action." You can find this and other useful materials on the NCDD websites, of which there are currently two undergoing a transition to a single site: www.ncdd.org and www.thataway.org.