Nanotubes and Asbestos Video
July 27, 2009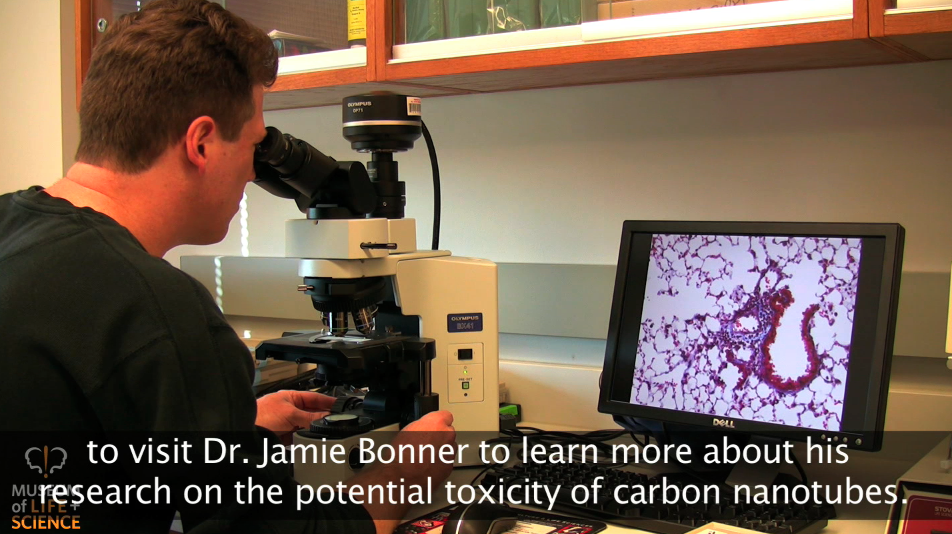 (A confession: Brad Herring sent me a link to this video months ago and I carefully filed it away to include in a later blog post and in the newsletter. Then I forgot about it until Brad very graciously mentioned it last week. My apologies.)
Brad Herring at the Museum of Life + Science put together a great video about the work of North Carolina State University researcher Dr. Jamie Bonner on the potential toxicity of carbon nanotubes.
Apart from being a generally very interesting and thoughtful introduction to some of these societal implications issues, the video could be a good lead-in to a nano forum or a science cafe discussing the risks and benefits of potential nano applications.
Check it out here: http://www.ncmls.org/learn-about/science-in-triangle/carbon-nanotubes
And here are two interesting blog posts by Andrew Maynard and David Berube on carbon nanotubes, the asbestos comparison, and safety. You can also check out Dr. Bonner's website for more information: http://service004.hpc.ncsu.edu/toxicology/faculty/bonner/index.htm.