NISE Net Partners Learn-by-Doing the MOS "Sharing Science Workshop & Practicum" with Grad Students in Boston
November 24, 2014

They flew in from southern Mississippi, Montana, California, North Carolina, Ohio, and New York. They brought slides and shared their career stories, organizational profiles, and professional agendas. They ate Afghani food in an east Cambridge bistro, and showed up early the next morning along with 14 Harvard and MIT graduates students for a day-long immersion in the "Sharing Science Workshop & Practicum (SSW&P),"  the Museum's one-day professional development program in nanoscale informal science and education for early career researchers. They pitched in alongside the students with small group work practice on "sharing science with words" and "sharing science with hands-on demos," and then they all moved out onto the exhibit floor for a two-hour NanoDays-style-hands-on-palooza.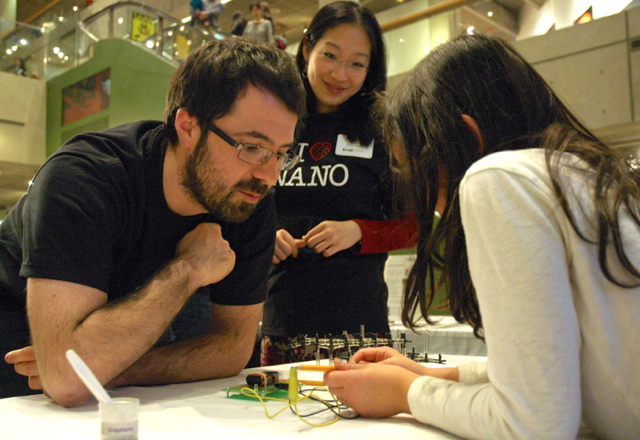 "I got to do hands-on interpretation on the exhibit floor of the Museum of Science!" said Tracy Englert, reference librarian and associate professor from the University of Southern Mississippi - the only non-museum member of the NISE-sponsored team, but no stranger to informal science education and outreach.
Tracy, plus Anna Barr from the California Academy of Sciences, Sarah Fisk from the CNSE Children's Museum of Science and Technology, Alex Laube from the Marbles Kids Museum, Brian Pollock from the Museum of Natural History and Science/Cincinnati Museum Center, and Nick Wethington from the spectrUM Discovery Area, then joined the students in an hour of debrief on the joys and surprises of face-to-face engagement with Boston-area youngsters and their parents.
The following morning, Sunday, the NISE partners got to work analyzing how they might adapt, implement and fund the SSW&P to benefit their own institutions, partners, and communities. All went home with a copy of the latest SSW&P Planning and Implementation Guide (new guide 3.0 soon to be posted on nisenet.org), inspirations, and plans. They created a Google Group and promised to report back to one another on their back-home implementations in February and the follow-up involvement of their participating researchers in their NanoDays events. A good time was had by all.
Hosting the event: Carol Lynn Alpert, Karine Thate, and Kayla Berry, with a cameo appearance by NISE Net head-honcho, Larry Bell.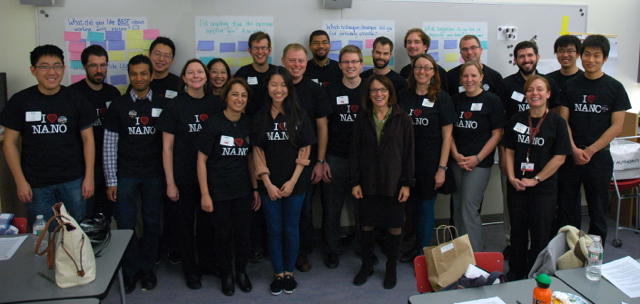 Workshop materials, videos, and more resources are available for free online at http://www.nisenet.org/catalog/tools_guides/sharing_science_workshop_practicum.