Partner Highlight: Rhode Island Museum of Science and Art
March 1, 2012
Remember your first NanoDays?
The Rhode Island Museum of Science and Art (RIMOSA) is getting ready for their first ever NanoDays this year and they're excited!
What do you remember from your first NanoDays?

What advice do you have to share?

How do you keep your NanoDays events fresh?
RIMOSA is a new "museum without walls" in Providence, RI focused on the building blocks of both art and science: curiosity, observation, experimentation and communication. Currently, RIMOSA partners with local organizations, including public libraries and visitor centers, to temporarily host exhibitions and conduct programs. Their target audience is older children and adults—too old for children's museums, but too young to have lost the desire to tinker, experiment and create.
RIMOSA is planning to hold their 2012 NanoDays at the Wanskuk Public Library and at the Rhode Island School of Design's Nature Lab. They'll incorporate activities from the Nanodays Kit and use some of their own resources to develop learning labs that highlight nano in nature and new nanomaterials! As RIMOSA director, Bonnie Epstein reports, staff are especially excited "about the opportunity that NanoDays gives them to bring a really current and exciting topic to families and students who get NOTHING like this in their classroom or elsewhere! Thank you, NISE Net!"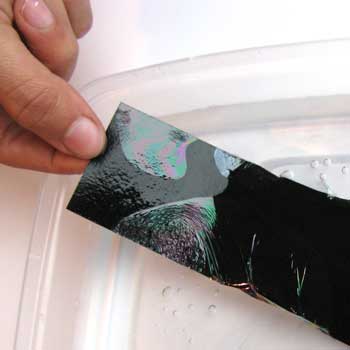 An artist on RIMOSA's staff is fascinated by the thin films, and is currently looking at ways to incorporate this activity into a large scale art project…

RIMOSA's goal is to encourage and foster curiosity and creativity in their community, so there will be innovators – in art or science or both – in coming generations. Their mission merges art and science creating innovative, interactive exhibits and programs that awaken curiosity, encourage experimentation, and improve understanding of the world around us.
To find out more about RIMOSA, their NanoDays plans, other exhibits and programs, or the board, please visit www.rimosa.org, or contact Bonnie Epstein at bepstein@rimosa.org