Partnering Tips
November 5, 2009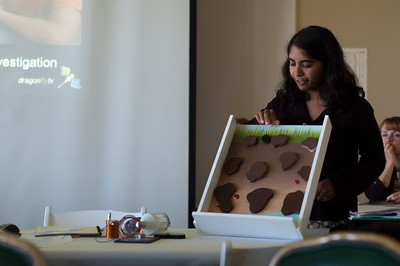 Jayatri Das of the Franklin Institute with a demo about using nano-iron to clean up groundwater, created in partnership with the Penn State Center for Nanoscale Science. Photo by Emily Maletz Graphic Design.
Some tips from informal science education people on finding and partnering with researchers:
Understand each other's timelines. For instance, Jayatri Das of The Franklin Institute found that it was best to avoid exam week and the first week of classes when working with researchers and professors on a semester schedule. Perhaps school vacation week is particularly busy for you. Not all researchers have teaching assignments, but almost everyone has busy times in their work.
Jayatri works with researchers at the Penn State MRSEC to develop activity kits, and suggested having up front conversations about the scope of products proposed and whether they matched the resources available. Be able to talk about approximately what it costs to develop different kinds of activities, programs, or exhibits.
Brad Herring of the Museum of Life + Science in Durham, NC is always looking for good speakers from the research world for his Science Cafe series. He suggested finding a way to listen to the potential speaker talk first, either by attending a lecture or sitting in on a class.
Brad also suggested getting on your local University communication director's mailing list to get press releases, which can be a good source for topics, speakers, and information about recently awarded grants.
The Danville Science Center recently booked Nobel Laureate Harry Kroto, co-discoverer of the buckyball, to speak at a science cafe while he is in their area for another conference. This is a good example of keeping your eyes out for events, conferences, or symposia in your region that might bring in potential speakers or presenters from the science and research worlds.
Brad also suggested asking to see forum speakers' powerpoint presentations ahead of time not to check the science, but to check for jargon, too much text, acronyms, and other things that may not be appropriate for your museum or program's audience. He's gotten great feedback from the scientists he's worked with that they've valued that feedback.
Redshift Productions creates experiences in art and science for scientists, artists, and public audiences. Max Evjen of Redshift had a number of suggestions for starting to collaborate with groups from differing work cultures. They suggested beginning a project in as neutral a space as possible, meaning not in your office, lab, or (in their case) their theater or art studio. He also suggested taking notes but leave samples of work, PowerPoint presentations, portfolios, etc at home for the first meeting. Dropping preconceptions of what will happen encourages new ideas and innovation.
Our friends from the Materials Research Society mentioned that partnering can be much easier when you connect directly with people in research institutions dedicated to education and outreach. NISE Net regional hub leaders can connect you with Materials Research Society liaisons who are ready to help now. NSF Materials Research Centers (MRSECs) have education directors in universities across the United States. To learn from the partnering experiences of others in the ISE field, sign up to view the ASTC Connect forum on Working with Scientists and Engineers (enter "volts" when asked for the one-time enrollment key).