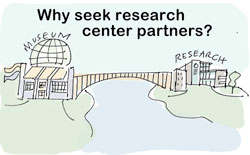 Small Steps; Big Impact: A guide for science museum leaders developing partnerships with university based research centers has been published online at risepartnerguide.org.   The online format facilitates visitors in selecting topics of greatest interest and it will allow the guide to grow and be refreshed through updates and community blog participation.  Visitors are encouraged to submit their own stories and accounts of science museum - research center partnership efforts. Major sections include:
The Partnership Landscape, including a primer on university-based STEM research, motivational factors for researchers, and the NSF's Broader Impacts Criterion.
Building a Partnership, including the tale of the last-minute phone call, the nature and characteristics of successful partnerships, laying the groundwork for partnerships, vetting an offer of partnership, and principles of good stewardship.
Recruiting a Partner, including an overview of the many ways science museums can serve the research community, strategies for finding and recruiting a partner, starting small and growing big.
Getting Grants, including a comparison of typical ISE funding sources versus funding through science and engineering subawards and contracts, partnering on grant proposals, and getting started.
Partnerships in Nanoscale Informal Science Education, including an introduction to the NISE Network, a sample of partnerships in nano education and outreach, an overview of nano pedagogy, an analysis of the evolving role of science museums, and a concluding comment on the power of partnerships
Resources, including ISE resources, funding resources, partnership resources, bibliography and references, and a brief primer on nanotechnology.
Glossary of relevant terms.
Comments and Discussion blog.
The guide is illustrated delightfully by Jeanne Antill.  Please see the About section in the Guide for a list of all the great folks who contributed to its development. The Guide was two years plus in the making and based on a decade of experience in  forming partnerships with university-based research centers, and informed as well by the experience of many colleagues.
At the last ASTC meeting,  Larry Bell and I  introduced the Guide to an audience of CEOs, VPs, and other senior management folks.  We are also offering a session at the NISE Net Annual Meeting.
We welcome comments, feedback and contributions. 
Cheers,
Carol Lynn