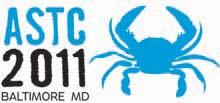 Hosted by the Maryland Science Center.
Theme: Knowledge That Works—From Theory to Practice
General information about the conference.
Pre-Conference Workshop
The NISE Network is sponsoring an open pre-confernece workshop.
There is a $25 registration fee. You can sign up when you register for the conference.
Really Great Programming: Best Practices in Development, Delivery, and Evaluation
Friday, October 14, 2011, 8:00am- 4:00pm, Convention Center
This hands-on workshop provides educators with an overview of best practices in program development, delivery, and evaluation. Topics include program design, presentation techniques, diverse audiences, universal design, and team-based inquiry. Participants will work in small groups to share their experiences and improve their skills, and will take home ready-to-use resources.
Baltimore Welcomes You! Reception - Happy Hour
Friday, October 14, 2011, 5:00pm-7:00pm
Metropolitan Coffeehouse & Wine Bar
902 Charles Street, Baltimore
The NISE Network partners are invited to gather together the first evening of the conference.
Exhibit Hall - Booth #801
Saturday, October 15, 2011, 10:30am-5:00pm, Convention Center
Sunday, October 16, 2011, 10:30am-5:00pm, Convention Center
The NISE Network will have a booth in the exhibit hall featuring the Nano mini-exhibition. 

More information about the mini-exhibition.
NISE Network Partner Breakfast
Monday, October 17, 2011, 7:45am-8:45am, Sheraton Baltimore City Center, Pratt Room
The NISE Net is hosting an invitation-only breakfast for staff from partner institutions. Hear about our plans for the coming year, learn about new educational products and opportunities to get involved, and talk with other NISE Net partners from across the country.
Sessions
The NISE Network and information about engaging the public in nanoscience, engineering, technology will be featured in the following sessions:
Preparing Scientists for Public Engagement: Professional Development That Increases Success
Saturday, October 15, 2011, 2:15pm - 3:30pm, Convention Center  
Presenters: Lauren Russell, Carol Lynn Alpert, Chris Wallace, Tiffany Lohwater, Dana Vukajlovich, Kristin Leigh, Lynn Uyen Tran, Catherine Halversen
Science centers have a unique opportunity to facilitate scientist interactions with public audiences and help prepare scientists for this type of engagement. Through a panel discussion and facilitated activities, this session will highlight successful programs for preparing and supporting scientists in their public engagement activities.
Net Working: Lessons Learned from Working in Networks  
Sunday, October 16, 2011, 9am-10:15am, Convention Center
presenters: Larry Bell, William Spitzer, Kate Crawford, Vrylena Olney, Mark St. John
Recently funders have supported networks that go beyond collaborations or partnerships. What makes networks different? What have we learned about building and working in them? Three network leaders will share their experiences with networks bridging the ISE and research worlds, followed by discussion of essential features of networks.
Ideas for Raising Public Literacy about Materials Science and Engineering
Sunday, October 16, 2011, 12:30pm - 1:45pm, Convention Center
presenters: Harold Clark, Eric Marshall, Karine Thate, Elizabeth Kelley, Woody Sobey, Joshua Sheehan, John Leonard, Calvin Uzelmeier, Daniel J. Steinberg, and Rachel Connolly
Materials science and engineering is a STEM field little known to the public but of profound importance to modern society. Learn how science/technology centers can play a key role in educating the public through events such as the launch of the NOVA series "Making Stuff," as well as ongoing, materials-focused programming.
Indie Styles That Work!
Sunday, October 16, 2011, 2:15pm - 4:15pm, Convention Center
presenters: Keith Ostfeld
Science education adage: "Biology moves, chemistry fizzes, and physics doesn't work!" As educators, we can't afford to have our demonstrations and experiments not work with visitors. In this fifth installment of the Indie-Style series, get hands-on with STEM-focused, low-cost, high-impact science experiences guaranteed to work—in theory or practice!

Doing Stuff Together: A Forum on Coordinated National Outreach Partnerships
Sunday, October 16, 2011, 2:15pm - 3:30pm, Convention Center  
Forum Discussants: Participants from the many organizations involved and Carol Lynn Alpert, Sue Allen, Barbara Flag, Barbara Goodman
Did your museum organize a NOVA "Making Stuff" event this year? NanoDays? Some other nationally coordinated outreach effort? Join a discussion about how these cross-institutional initiatives impact audiences and influence our practices. Let's look at the data, share the stories, think through the implications, and make strategic recommendations.

Educational Program Development: Simple Best Practices for Great Presentations
Monday, October 17, 2011, 9am-10:15am, Convention Center
presenters: Anders Liljeholm
Our panel of museum veterans will present how to make a great public program. From initial concept to public testing to final documentation, we'll share tips and best practices to make any presentation fantastic, along with templates for visitor testing and documentation for staff training.

Innovative Collaborative Development and Sharing of Educational Resources Online
Tuesday, October 18, 2011, 9am-10:15am, Convention Center
presenters: Catherine McCarthy, Darrell Porcello, Jim Spadaccini
Come learn about some of the innovative informal science education projects that are making it easier to share ideas, practices, and formats. Projects featured include the NSDL SMILE Pathway, the NISE Network, and Open Exhibits. Topics will include sharing of free materials that can be easily adapted by your institution.

Integrating Evaluation into Education Programs: Tips and Tricks for Success
Tuesday, October 18, 2011, 9am-10:15am, Convention Center
presenters: David Perry, Liz Rosino, Jenny Heim, Rita Deedrick, Tim Hecox, Kathleen Vandiver
Gain practical knowledge of how some institutions are building the capacity of their program staff to collect valuable data on program impacts. After presenting some of the tools and strategies they've used, evaluators and educators will mentor participants through the process of building a sample evaluation plan.