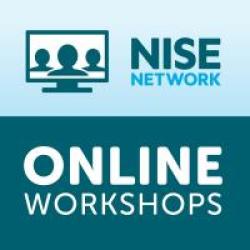 The NISE Network runs a series of free online workshops to increase the number of professional development opportunities available to our partners, and create more channels for partners to share their work and learn from each other directly.
New to the NISE Network? Getting Familiar with Network Resources, Partners, Projects, and Events 
Tuesday, January 29, 2018
11am - 12pm Pacific / 2pm - 3pm  Eastern 
Are you or your organization new to the NISE Network? Or maybe you're new to your organization but your organization isn't new to the Network? What does being a NISE Network partner consist of and how can the NISE Network help you in your organizational role? These are great questions and Network project team members are ready to take you on a guided journey of the NISE Network and our many offerings.
The NISE Network has collaborated with over 600 partners all across the United States on an unprecedented scale, effecting nationwide change in public engagement with a variety of STEM topics. Through participation in the Network, partners create and strengthen valuable relationships within their own communities thereby building on and expanding the Network and its impact. Join us for an online overview of the NISE Network and the various projects and products we've created, including many professional development resources. We'll also discuss what it means to be a NISE Network partner and what opportunities exist to help you collaborate with other project partners and/or local, regional, or national organizations.
Presenters
NISE Network Regional Hub Leaders
Ali Jackson, Sciencenter, Northeast Regional Hub Leader
Brad Herring, Museum of Life and Science, Southeast Regional Hub Leader
Christina Leavell, Science Museum of Minnesota, Midwest Regional Hub Leader
Frank Kusiak, Lawrence Hall of Science, West Regional Hub Leader
NISE Network Partners
Mike Rathbun, Discovery Center Museum, Rockford, IL
Sheila Montgomery, Powerhouse Science Center, Sacramento, CA 
Hardin Engelhardt, Marbles Kids Museum, Raleigh, NC
---
Workshop Resources
---
About the Project
---
Acknowledgements
This material is based upon work supported by NASA under cooperative agreement award numbers NNX16AC67A and 80NSSC18M0061. Any opinions, findings, and conclusions or recommendations expressed in this material are those of the author(s) and do not necessarily reflect the view of the National Aeronautics and Space Administration (NASA).