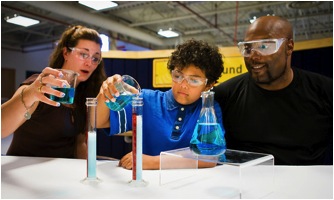 The NISE Network creates educational products for a wide range of public audiences in informal learning settings.  The NISE Network also creates a variety of professional development materials for scientists and educators to raise their capacity to engage the public in nanoscale science, engineering, and technology.
Inclusive Audiences Approach
The NISE Network seeks to increase professional and institutional capacity to effectively engage underserved and underrepresented audiences, including girls, bilingual audiences, and persons with disabilities, in informal learning experiences related to nanoscale science and technology.
The NISE Net strives to reach a diverse audience with regard to geography, dis/ability, gender, race/ethnicity, language and income. Some examples of this work include: 
Geography: building partnerships with existing regional networks and other informal learning organizations that serve rural areas
Dis/Abilities: using Universal Design principles when designing programs and exhibits, making video materials more accessible through the use of video captions, and using audio labels and audio descriptions for exhibits.
Gender: partnering with informal learning organizations that serve girls
Race/Ethnicity: partnering with diversity-serving organizations
Language: translating many public education materials into Spanish
Income: encouraging partners to collaborate locally with community partners
Available on the website:
Spanish Language Translations
Based on input from NISE Network partners, we have adapted our most popular programs for Spanish-speaking audiences! Follow the link below to explore Spanish versions of several NISE Network public programs, as well as other selected resources. We have placed the highest priority on translating products that directly serve public audiences. Professional resources, such as instructional materials and educator's guides are only available in English at this time. For more about our process and a link to educational materials translated into Spanish click here.  Also available is our Translation Process Guide.
Local Collaborations
The NISE Network is enthusiastic about engaging underrepresented audiences in nanoscale science, engineering and technology learning experiences; listed below are just a few examples of how you can contribute to this effort.
Incorporate the NanoDays kit activities into existing outreach programs (for example, with local afterschool programs, programs for Title 1 schools, or Boys and Girls Clubs).
Partner with a diversity-serving organization to offer a nano-themed activity day (at your site or theirs).
Include older youth from different backgrounds in your efforts to deliver the activities to the public, or include them in a mentoring program.
Share your experience and lessons learned with the Network through the Nano Bite e-newsletter, blog post, or in an in-person meeting. Contact your regional hub leader to learn more.
Seek out volunteers from diversity serving professional societies.
Useful Links:
Diversity Serving Professional Societies