In collaboration with NASA, the NISE Network has assembled a new set of engaging, hands-on Earth and space science experiences with connections to science, technology, and society.  
---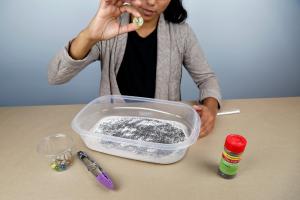 Links to download the
entire digital toolkit (zip files):
Digital version of the Explore Science: Earth & Space 2018 toolkit 
Zip file 1 - Open Me First
22.92 MB
Zip file 4 - Training Materials
60.13 MB
---
TOOLKIT CONTENTS
---
Planning and promotional materials
2018 Event Planning and Promotion Guide

Planning and promotion guide
Welcome letter and list of kit contents
Photo release forms
Sample press release Spanish!

Digital copies of all promotional materials, ready-to-print and customizable
Large promotional banners Spanish!
Temporary tattoos (physical kit only)
---
Training materials
---
Hands-on STEM activities 
Digital copies of all activity guides, graphics, and educational materials Spanish!
---
About the Project
Learn more about the toolkit: www.nisenet.org/earthspacekit
Learn more about the 2017 digital toolkit: http://www.nisenet.org/earthspacekit-2017
Learn more about the application process for physical toolkits: www.nisenet.org/earthspacekit-apply
Learn more about the project: www.nisenet.org/space
---
Acknowledgements
This material is based upon work supported by NASA  cooperative agreement award number NNX16AC67A.  Any opinions, findings, and conclusions or recommendations expressed in this material are those of the author(s) and do not necessarily reflect the view of the National Aeronautics and Space Administration (NASA).