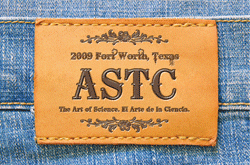 Date:
Saturday, October 31, 2009
to
Tuesday, November 3, 2009
Hosted by the Fort Worth Museum of Science and Industry Each year, NISE Net sponsors a set of sessions, workshops, and other events at ASTC's annual meeting. Here's what's on tap for this year: Welcome Reception Meet us for drinks and appetizers on Friday, Oct. 30th from 5:00 - 7:00 pm at the Library Bar on 611 Houston St as part of the Fort Worth Welcomes You! Receptions. No need to RSVP, just stop by. NISE Net Breakfast The NISE Net is also hosting a breakfast on Monday, November 2nd for staff from institutions who have been involved in the Network. The breakfast will be an opportunity for you to tell us about your experiences, meet other NISE Net collaborators, get a first-hand look at a few of the new things in the development pipeline, and take home some outreach materials as a thank you from us for your work over the year. I'll post the RSVP link here as soon as it's ready so we can make sure we have enough food and coffee for everyone. If you're not coming to ASTC but someone else from your institution is and might might like an invitation, please let Juli Goss know (jgoss AT mos DOT org) so we can be sure to send them an invitation. Exhibit Hall We'll be in the ASTC Resource Area in the Exhibit Halls again this year, answering questions, showing off our revised NanoDays kit, and doing some hands-on activities. - Grab a few friends and try out one of our new NanoDays activities: following simple rules to "self-assemble" your group into predetermined shapes! - While you're there, try using your nose as a nano detector, identifying scents hidden inside colored balloons. Tiny, nano-sized scent molecules too small to see with just your eyes--but not too small to smell! And, of course, we'll have our famous "I'm Made of Atoms" tattoos. Conference Sessions There will be nine conference sessions that feature NISE Net work. A full list with session descriptions, times, dates, and room locations is posted on the Nano Bite blog. Saturday Sessions:
Interpreting the Nanoworld through Juggling, Drama, Art, and Media
Public Engagement with Science and Technology Policy: How Far Should We Go?
Making the Invisible Visible: Visualizing Emerging Science with Artists
Sunday Sessions:
Dimensions of Public Engagement: Finding Your Footing in a Paradigm Shift
Public Impact Results for the Nanoscale Informal Science Education (NISE) Network
Monday Sessions:
Creative Programming and Current Science Learning
Sustainable Diversity Workshop: Conversation and Tools for Inclusivity
Tuesday Sessions:
Science Alliance: Advancing Science Communication by Bridging Diverse Organizations
Public Engagement in Current Science and Global Issues
Hope to see you there!
What is ASTC?

The Association of Science-Technology Centers (ASTC) is an organization of science centers and museum dedicated to furthering public engagement with science among diverse audiences. ASTC encourages excellence and innovation in informal science learning by serving and linking its members worldwide and advancing their common goals.
The NISE Net-ASTC Partnership
The partnership between ASTC and NISE is a natural one. The NISE Network benefits from many of the services afforded to ASTC member organizations: participation in ASTC's Annual Conference, visibility in print publications and online events, and collaboration within a broad community of professionals. In addition, the NISE Net's NSF award supports an ASTC communications manager, who acts as a liaison between the Network and the larger ASTC community. This liaison helps ASTC members create opportunities for learning experiences about nanoscale science and technology. ASTC's Washington, DC location provides another strategic benefit – the opportunity to keep an eye on the legislative and policy activities that surround this emerging technology. ASTC's Margaret Glass regularly blogs about nano-related events in DC Nanowire, keeping NISE Net partners apprised of changes in education or tech policy that might affect us.