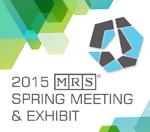 Date:
Monday, April 6, 2015
to
Friday, April 10, 2015
Each year, MRS holds two international meetings, one in Boston in the fall and the other in San Francisco in the spring. The NISE Net participates in these meetings in a variety of ways, holding workshops, professional development sessions, outreach activities, and bringing new scientists into the network.
More Information:
Call for Papers:
Abstract Submission Site Opens — September 23, 2014
Abstract Submission Deadline — October 23, 2014
The following public outreach and professional development events are provided by the NISE Network, NSF, and the Materials Research Society Foundation
Public Outreach Events
Discover an MRS Community of Science Education and Outreach
The Materials Research Society is playing a major role in bringing the education, research and industrial communities together at the 2014 MRS Spring Meeting. Join us for exciting hands-on activities, demonstrations, information areas and seminars to engage future materials scientists and engineers.  Find out how you can participate and be a part of the excitement as we bring the science of materials to the general public.
Public Outreach Center Hours and Location:
TBD
NISE Network Booth
TBD
Student Mixer     
TBD
Professional Development
Education Sessions
About MRS: Starting with just four symposia in 1983, the MRS Spring Meeting and Exhibit has grown to over 50 symposia and over 5,000 attendees. Held annually in San Francisco's Moscone West convention hall, MRS Spring Meetings are essential events for discovering and presenting the very latest developments in materials research.  www.mrs.org