December 6, 2013
Catherine McCarthy, Science Museum of Minnesota
Many thanks to everyone who shared their opinions and experiences through the Annual Partner Survey last month. This survey represents an integral component of our ongoing efforts to understand and enhance the NISE Net partner experience, and as such, the participation of our partners is absolutely vital.  The questions included in the online survey were designed to assess the ways in which the resources available through the Network are put to use, as well as how the Network might better support partners' efforts now and in the future. Over 350 people completed the survey this year!  Keep an eye out for survey findings featured in the Nano Bite e-Newsletter over the coming months.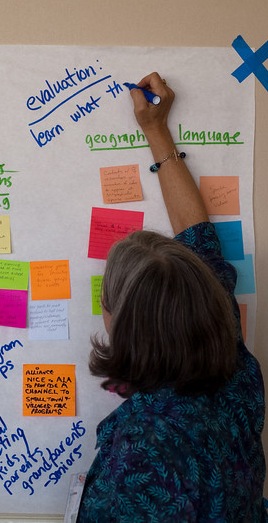 Drawing winners:

As a token of appreciation, each survey participant was entered into a drawing to win one of twenty $100 Amazon.com gift cards.  The winners are:
Kate Arrizza, South Florida Science Museum
Peter Ateshian, Naval Post-Graduate School
Lily Benedict, Rhode Island Museum of Science and Art (RIMOSA)
Christine Broadbridge, CRISP – MRSEC at Yale/Southern Connecticut State University
Amy Burke, Children's Science Center
Douglas Coler, Discovery Place, Inc.
Rachael Cutrefello, National Museum of Nuclear Science and History
Kevin Dilley, Sciencenter
Ben Dubin-Thaler, Cell Motion Bio Bus
Amanda Fisher, Oregon Museum of Science and Industry
Tammy Frazier, Louisiana Art and Science Museum
Bernadette Hernandez-Sanchez, Sandia National Laboratories
Gordon McDonough, Los Alamos National Laboratory – Bradbury Science Museum
Anji McStravic, Imaginarium Science Center
Juana Moreno, Louisiana State University
Heather Newman, Leonardo's Discovery Center (Enid Arts & Science Foundation)
Maria Victoria Peeler, Washington State Department of Ecology
Madlyn Runburg, Natural History Museum of Utah
Andrew Spence, Kentucky Science Center (formerly Louisville Science Center)
Stephan Zauscher, Duke University
For more information about the Annual Partner Survey, please contact Liz Rosino at the Oregon Museum of Science and Industry (OMSI) <LRosino@omsi.edu>.