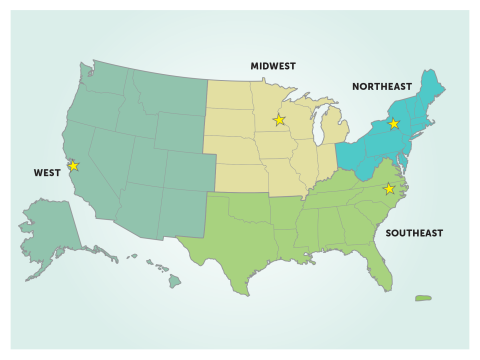 Questions about the NISE Network?
Contact your Regional Hub Leader.
The NISE Network community within the United States is organized around four "Regional Hubs" based on geographic proximity. Regional hubs facilitate partner interaction in the Network, help museum educators connect with scientists and each other, and provide support to institutions in their region. To get more involved with the Network, find your region on the map, and contact your Regional Hub Leader.
---
Meet your NISE Network Regional Hub Leaders
NORTHEAST 
CT, DC, DE, MA, MD, ME, NH, NY, NJ, OH, PA, RI, VT, WV


Ali Jackson
Sciencenter, Ithaca, NY
607-272-0600x144

SOUTHEAST 
AL, AR, FL, GA, KY, LA, MS, NC, OK, SC, TN, TX, VA, Puerto Rico, & US Virgin Islands

Brad Herring
Museum of Life and Science, Durham, NC
919-220-5429x360

MIDWEST 
IA, IL, IN, KS, MI, MN, MO, ND, NE, SD, WI


Christina Leavell
Science Museum of Minnesota, St. Paul, MN
651-221-9434

WEST
AK, AZ, CA, CO, HI, ID, MT, NM, NV, OR, UT, WA, WY, American Samoa, & Guam

Frank Kusiak
UC Berkeley Lawrence Hall of Science, Berkeley, CA
510-643-7827
Outside the United States? 
Visit our FAQ page to learn more about opportunities for International partners located outside the United States.
---
More Contacts
Website, Administration, Community and Regional Hubs
Catherine McCarthy
Center for Innovation in Informal STEM Learning, Arizona State University, Tempe, AZ
Research Center – Informal Science Center partnerships (RISE)
Larry Bell
Museum of Science, Boston, MA
Evaluation
Elizabeth Kunz Kollmann
Museum of Science, Boston, MA
---
Mailing Address

NISE Network
Center for Innovation in Informal STEM Learning
School for the Future of Innovation in Society
Arizona State University
PO Box 875603
Tempe, AZ 85287-5603