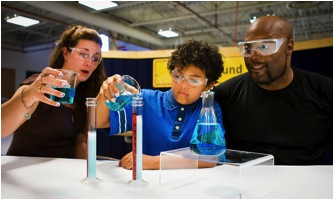 The NISE Network creates educational products for a wide range of public audiences in informal learning settings. The NISE Network also creates a variety of professional development materials for scientists and educators to raise their capacity to engage the public in current science, technology, engineering, and math (STEM).
---
Inclusive Audiences Approach
The NISE Network seeks to increase professional and institutional capacity to effectively engage underserved and underrepresented audiences, including girls, bilingual audiences, and persons with disabilities, in informal learning experiences related to STEM content.
The NISE Net strives to reach a diverse audience with regard to geography, dis/ability, gender, race/ethnicity, language and income. Some examples of this work include: 
---
Resources available on the website:
Girls
Bilingual Audiences 
Racial justice
Collaborations to reach under-served audiences
Universal Design
---
Local Collaborations
The NISE Network is enthusiastic about broadening participation and engaging underrepresented audiences in current science, technology, engineering, and math (STEM) learning experiences.
Collaborating with Youth-Serving Organizations
---
Partnering with Diversity Serving Professional Societies
Professional STEM societies designed to support under-represented groups are eager to foster interest in STEM careers and diversify the STEM workforce. Many of these societies have local chapters located across the United States; opportunities for collaboration on local public engagement include special events, community outreach, and mentoring programs.
---
Partnering with Local Scientists
Resources for finding and collaborating with local subject matter experts: