Frankenstein200: The scientist and his creature are 200 years old in January, 2018!
November 8, 2017
NISE Net is partnering with Arizona State University and partners across the country to celebrate the anniversary of the publication of Mary Shelley's novel Frankenstein! This 200-year-old story explores themes of human creativity, societal responsibility, and scientific ethics.
The Frankenstein200 project uses themes from Frankenstein to encourage creativity and support learning related to responsible innovation. Through hands-on activities, an alternate reality game, and online challenges, the project explores emerging technologies like artificial intelligence and genetic engineering, while promoting the development of 21st century skills.
Your organization can participate in the nationwide birthday party for Frankenstein by downloading a free digital activity kit from http://www.nisenet.org/frankensteinkit
The Frankenstein200 kit includes seven hands on activities, including five maker-style activities such as automata and scribble bots, and two activities that explore the science of Mary Shelley's time. The digital kit includes all the files and instructions you need to assemble your own activity materials, and also provides information on other project elements.
NISE Net partner Sciencenter in Ithaca, NY, has already used the new Frankenstein200 hands-on activities in their annual Spooky Science programming. This free community event includes tricked-out exhibits, eerie activities, and hair-raising demonstrations. Educator Victoria Fiordalis reports, "The Sciencenter chose Frankentoy, Monster Mask, and Spark of Life as activities that could hold up to a fast paced, high energy, crowded event, and they definitely were wonderful additions!"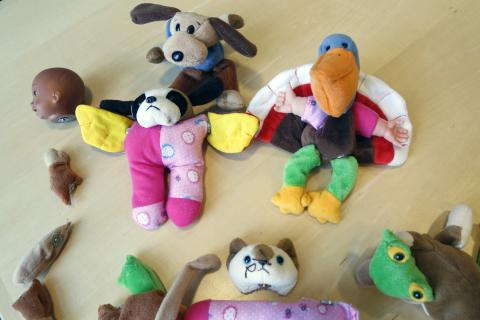 The Frankentoy activity lets learners take on the role of Frankenstein. They make a toy "creature" by mixing and matching different parts of toys. Unlike the scientist in the story, Sciencenter guests considered whether and how they should take care of their creature, and thought ahead to what might happen to it if it really came to life. Frankentoy was a "creepy, thoughtful, and engaging experience for children and adults alike," says Fiordalis. "Guests made quite unusual creations using the toy parts! Volunteers and staff found that as much as people liked making the strange animal combinations, they also loved restoring order and taking them apart!"
In the Monster Mask activity, the tables are turned, and learners consider what it would be like to be Frankenstein's creature. They make a mask with a special feature: an LED bulb that lights up. In Shelley's story, Frankenstein's creature is sad and then angry when people assume he is a monster because he looks scary. The activity promotes conversation and reflection about how people make judgements based on appearance. Fiordalis says, "This activity fit in nicely for those visitors that were dressed up and those who came without costumes, so they were able to make something at the Sciencenter to wear for the event."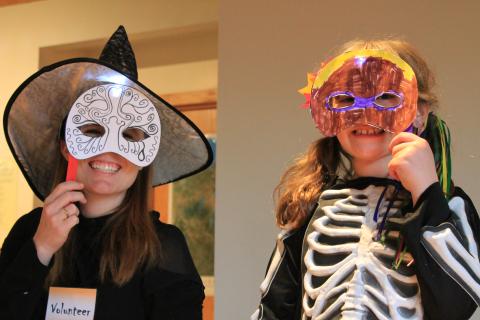 Finally, Fiordalis says that "Spark of Life was a fantastic addition to the activity line up because it added in some unusual science and created engaging conversations." In this activity, learners create a battery from two kinds of metal and their own body, and learn about the scientific experiments that made Mary Shelley think that scientists might someday be able to build a creature and bring it to life.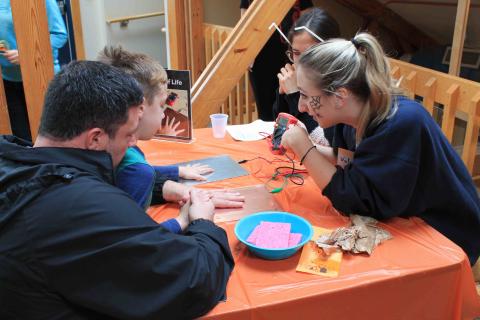 The Sciencenter plans to provide special programming in January, 2018, for national celebration of the 200th anniversary of Frankenstein. Fiordalis is already thinking of ways to enhance the activities. For Spark of Life, she suggests, "We might put together a chart for people to record their multimeter readings once they do the activity because lots of people wanted a reference for where they related to other visitors. We also might add a chart of how much electricity it takes to run different items. Guests were excited to learn more about electricity after participating in the activity and in the conversation surrounding the experience!"
Learn more about the Frankenstein200 kits during the NISE Net online workshop taking place on Tuesday, December 5, 2017; 2:00 - 3:00 PM Eastern. Sign up now for this online workshop
---
This material is based upon work supported by the National Science Foundation under Grant Number DRL-1516684. Any opinions, findings, and conclusions expressed in this material are those of the authors and do not necessarily reflect the views of the National Science Foundation.