Lifecycle of a Decision-maker
November 1, 2010
Last week's Network-Wide Meeting raised questions about how science museums can engage the public in consideration of societal, environmental, and ethical issues related to nanoscale science and engineering and any emergent technology, and how we as a society and as individuals make decisions that affect the future. Scientists and universities together interact in many ways with the lifecycle of a decision-maker.
Here's an image that I made for the session last Wednesday on Anticipatory Governance.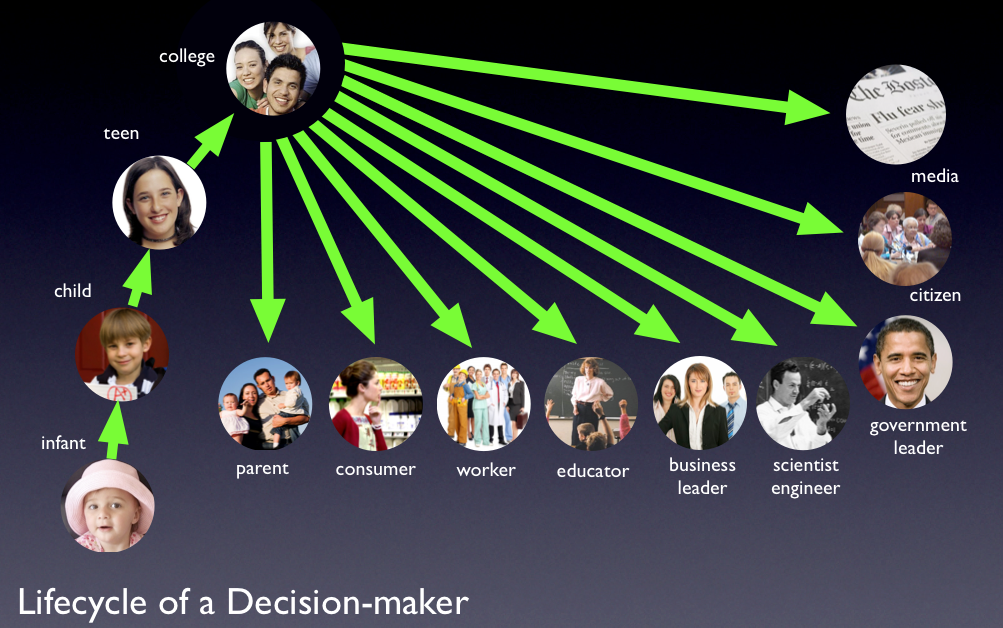 The point of the image is that as we grow up and go to school and some of us go to college, we become parents, workers, citizens, etc. All of us make decisions that affect the future at every stage in life in whichever of these roles we play. Science museums and our university partners provide learning opportunities for just about every category of decision-maker in this diagram.
Many of our institutions have special galleries for very young children, while elementary and middle school children may be the core of our audience. We also have special programs for high school student and older youth. At last week's meeting, we talked about science communication training for college students and programs that offer science students societal and ethical perspectives.
Parents are sometimes a special focus as they visit our museums with their children. From time to time we provide environmentally responsible advice for the consumers in our audience. Sometimes we use our facilities for training of groups of professionals in particular industries and such groups often use our facilities for special events. Science museums and universities offer a variety of pre-service and in-service training for teachers and our trustees groups are often comprised of business leaders. We work with scientists and engineers in the development of our exhibits and programs, and some of our institutions even include government leaders as a target audience. Forum programs and other adult programs are often aimed at citizens and from time to time we provide professional development opportunities for media.
In the current work across our field, we touch people in all of these roles. We have the capacity to affect decision-making throughout society if we chose to take on that role.