NanoDays 2009: What went well & what you'd do differently next time.
May 20, 2009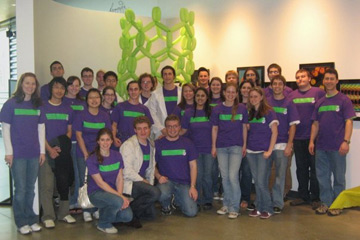 NanoDays at Da Vinci Science Center (See more pictures on Facebook)
LeHigh University and the Da Vinci Science Center sent us an addendum to their NanoDays 2009 Report, which didn't surprise me considering how creatively they've summarized their prior NanoDays experiences.
You can read the entire report here (PDF download), but I want to call out specifically their answers to the following two questions:
What went well about our event: We had even larger participation by student volunteers than in 2008. There were also several new activities this year, and the topics were more uniformly interesting than in our first attempt. The children were excited by the activities and the parents were very complimentary about the content and the delivery. The Da Vinci Center was extremely helpful with preparing the space and assisting us with activity planning. The undergraduate students were enthusiastic and many learned about aspects of nanotechnology with which they had previously been unfamiliar. The lunchtime presentation, delivered for the first time, offered a useful break for the student presenters. In it we were able to do some things that were too dangerous (e.g., breaking glass) or expensive to perform multiple times. We gathered feedback from the student volunteers immediately after the event so we'll have a record of needed improvements for 2010.
What we'd do differently next time: Wider advertising in the general media. Look for funding from a foundation or company to support the NSF funds provided by the faculty organizers. Improved flow of visitors beginning at a "welcome" table. A map (and maybe an "information scavenger hunt") handed out at the Science Center admissions desk. Slight adjustments to several of the activities to improve the hands-on experience for the children.
How do your answers differ?
Login and leave a comment below and tell us what you did well and what you'd do differently next time.