NanoDays at the 2015 International Beijing Science Festival
November 4, 2015
How do you go from doing NanoDays in the US to holding NanoDays in Beijing, China? 
The story starts simply enough.  While facilitating activities at NanoDays 2015 in the Museum of Science, Boston, Pei Zhang was inspired by what she experienced. She loved the hands-on activities and engagement between volunteers and the public. But Pei wanted more. She wanted to bring the NanoDays experience to China and she knew just how to make it happen. Pei currently serves as the Executive Director of the US China Scitech Education Promotion Association, a Massachusetts based nonprofit organization that coordinates science and technology related activities between schools in the United States and China. One of her responsibilities was to assemble an international delegation of science educators to participate in the 5th annual International Beijing Science Festival, sponsored by the Beijing Association for Science and Technology (BAST), in September 2015.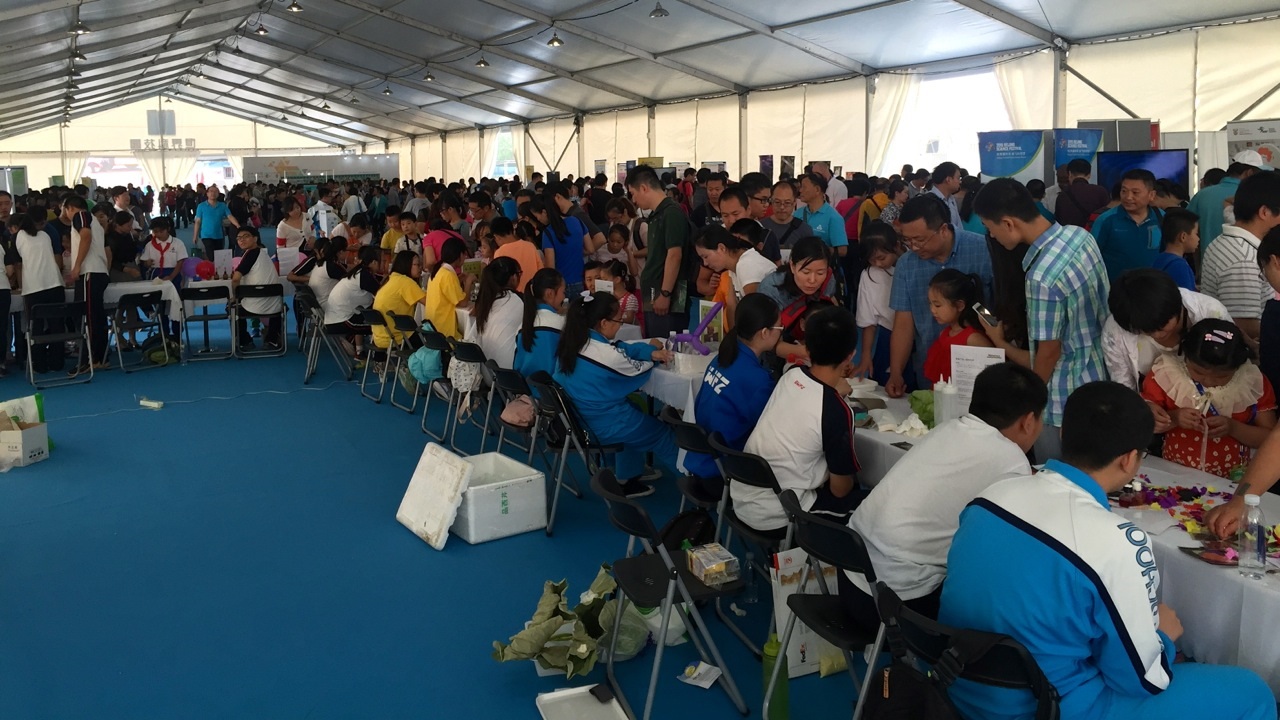 Pei reached out to the NISE Network through the Museum of Science and offered to bring two educators to the festival. In exchange, they would suggest a group of about 20 NanoDays activities and then train Chinese volunteers to deliver them in Mandarin at the festival. Brad Herring from the Museum of Life and Science in Durham, NC, and Frank Kusiak from the Lawrence Hall of Science in Berkeley, CA, accepted this offer and joined an international delegation of 65 science educators from 21 countries (Australia, Brazil, Denmark, Egypt, Finland, France, Germany, India, Israel, Italy, Netherlands, Poland, Russia, Serbia, Singapore, South Africa, Switzerland, Turkey, United Arab Emirates, UK, and USA), all tasked with bringing international hands-on science demonstrations to the International Beijing Science Festival.
Prior to the festival we worked with a group of Chinese students to translate 20 NanoDays activities into Mandarin. We then developed a materials list for each activity and Pei and her team purchased all of the supplies prior to our arrival. When we arrived at the festival we joined up with Dr. Jason Kuehner and his undergraduate student, Thomas Tallo, from Emmanuel College, to assemble each activity and then began training a group of 8th and 9th grade students from two of the top schools in Beijing on our NanoDays activities. The students were selected based on their English proficiency, so communicating with them throughout the week wasn't terribly difficult.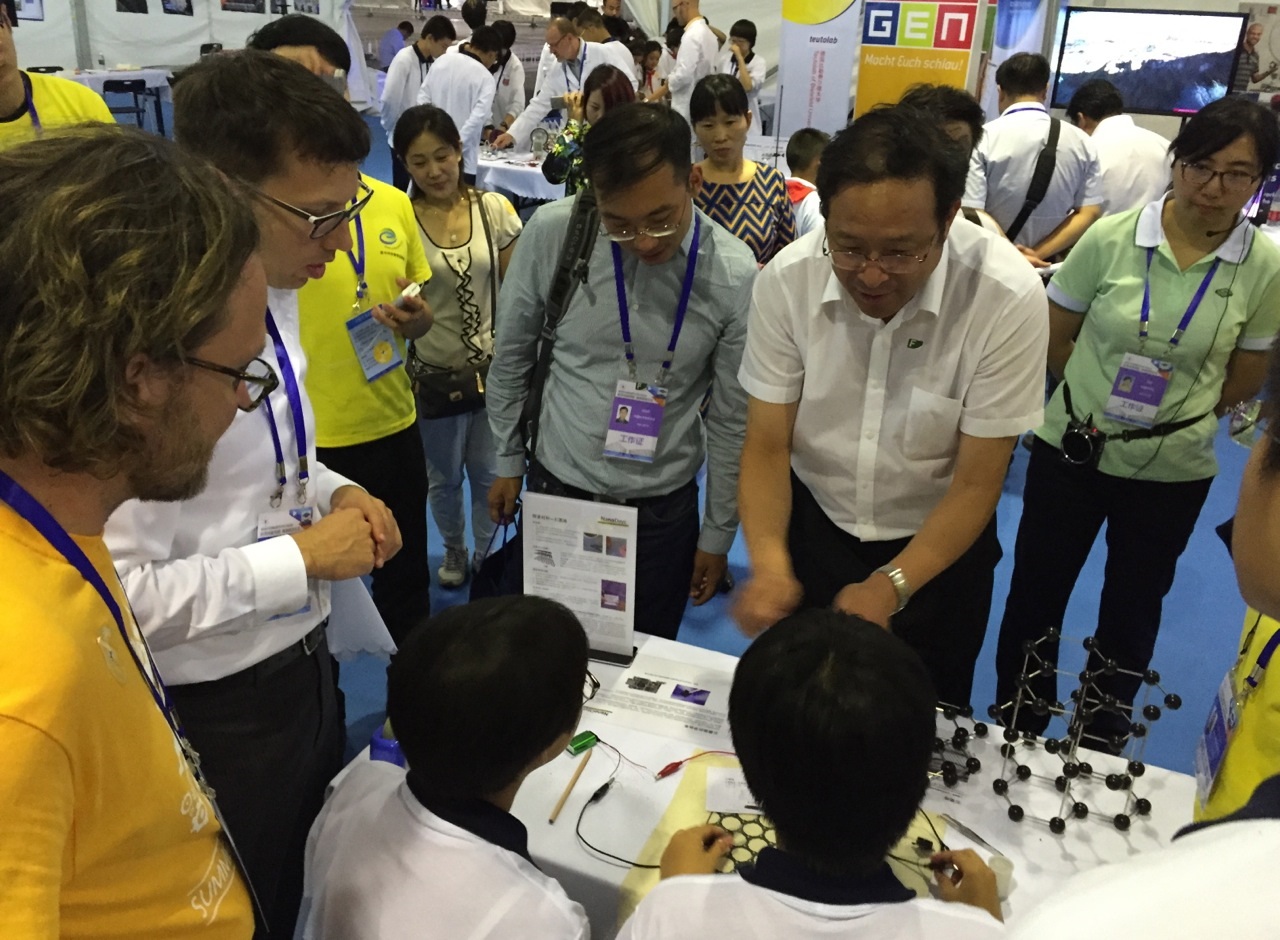 Held at the Beijing Olympic Park, site of the 2008 Beijing Summer Olympics, the festival lasted from September 18th to the 25th. While we don't have the exact numbers from this year's festival, last year the festival had over 80,000 attendees with the majority consisting of students from area schools. The festival kicked off Saturday evening with an opening ceremony parade featuring the Vice Chairman of China, Li Yuanchao, and China's Minister of Science and Technology, Dr. Wan Gang.  Dr. Gang visited our booth and interacted with the Kinetic Sand, Graphene and Nano Fabric activities. He spent most of his time at the graphene demo and seemed very interested in the idea of using graphene to develop better batteries that could help with China's pollution problem and the roughly 4 million cars currently on the road in Beijing.
During the festival we had the opportunity to attend two key events. On Friday evening, all 65 international delegates attended a themed welcoming reception called Common Friendship and Further Cooperation. The event was hosted by BAST and included a few opening remarks from BAST's vice chairman, Tian Wen. He began by welcoming us to China and then expressed a desire for the delegates to "fully display their programs, communicate with each other throughout the festival, boost friendship, and strengthen cooperation." We definitely succeeded in building common friendships and we plan to use those friendships to innovate new methods of science communication in the future.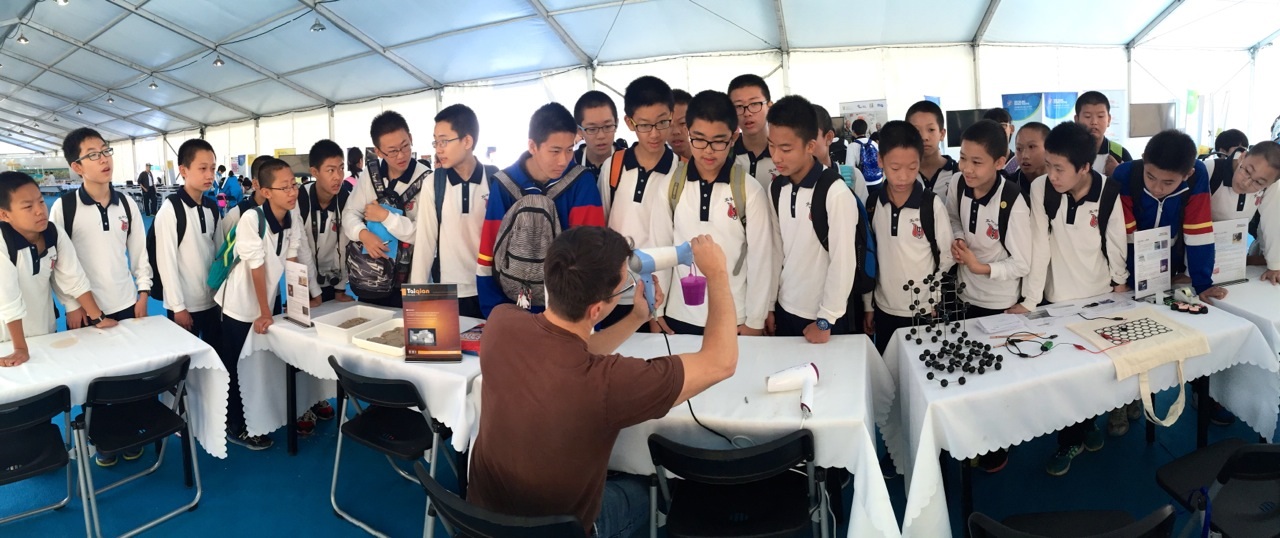 On Sunday afternoon we attended the Beijing International Science Festival Roundtable Conference at the China Science and Technology Museum. The theme for the afternoon was "A New Road for Science Communication." More than 30 delegates representing science festivals and relevant organizations from 18 different countries participated in an exchange of international science communication ideas and strategies. Each delegate shared how they deliver science content through science festivals, museum event days, science cafes and more. We shared the accomplishments and products of the NISE Network and how science communicators from all over the world can access our online library of resources, some of which will soon be available in Mandarin.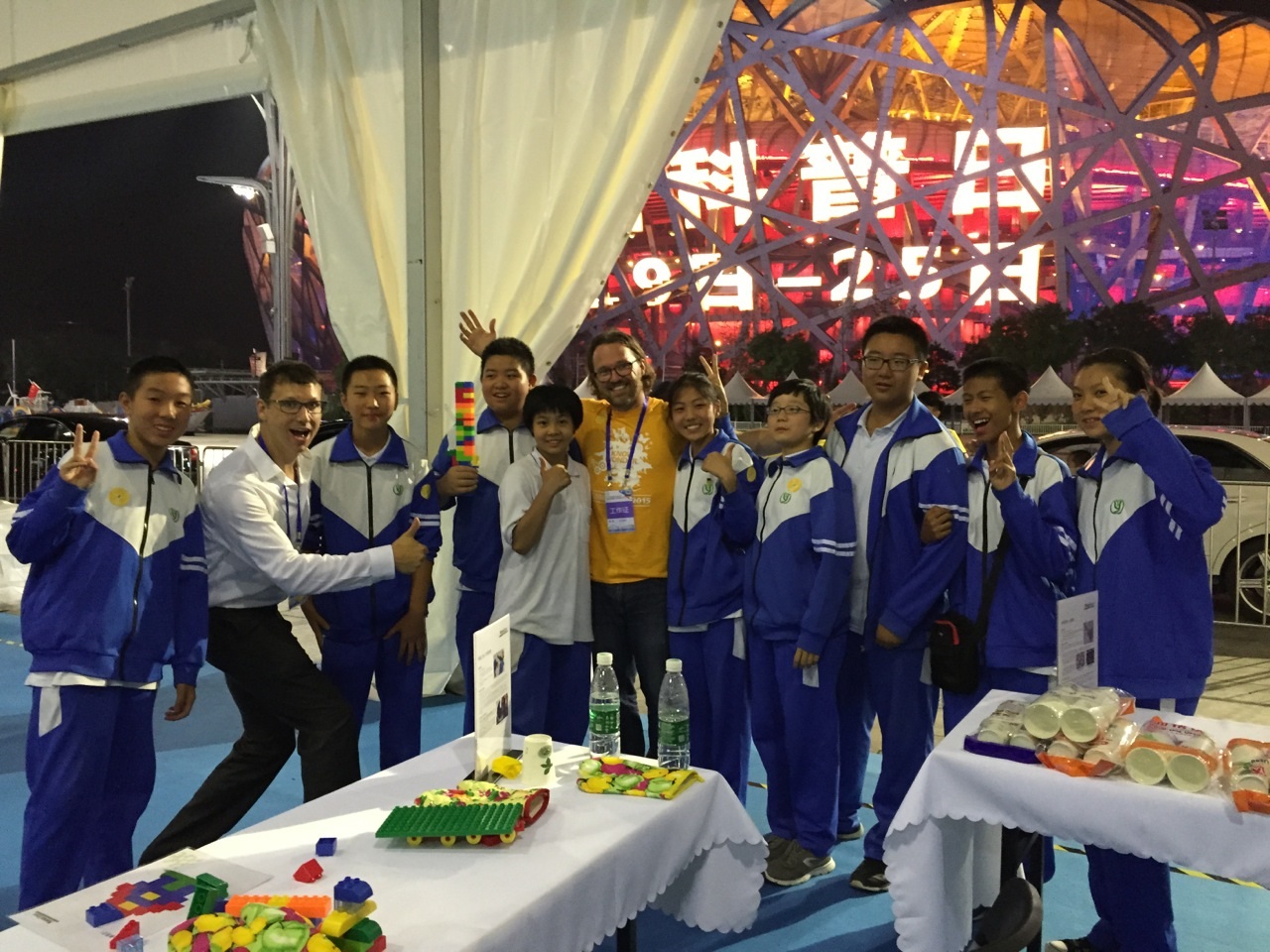 One of our most memorable moments from the festival happened on our last day. Much to our surprise, our complement of 30 volunteers was cut to a third due to school commitments. This forced us to begin delivering some of the programs on our own, with little to no Mandarin, to throngs of Chinese school groups and tourists visiting the festival. We simplified our display and let the volunteers run their favorite activities while Frank facilitated Memory Metal and Brad facilitated the Graphene activity. Both demos have such a great WOW factor that they can be delivered successfully and succinctly without verbal communication. And it didn't take long for us to begin WOWing the public. Frank's biggest laugh occurred when a kid, about in sixth grade, watched the memory metal retract to its original shape and yelled, "What the Heck?!" But he didn't use heck.
Overall, our experience at the festival provided us the unique opportunity to share our passion for science communication on a world stage. And in looking back on the theme for this year's festival, "Science makes dreams come true, embrace wise life," we can only hope that our participation in this science festival played a part in making someone's science dreams come true.