Next Year We'll Have to Get a Tour Bus
April 28, 2009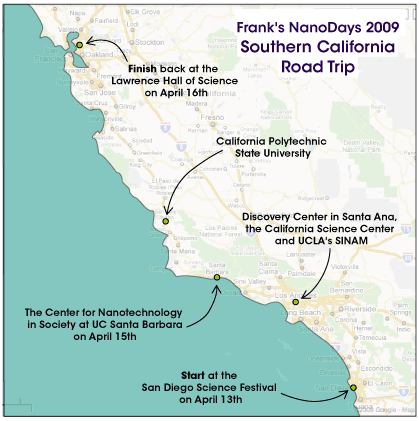 Frank Kusiak of the Lawrence Hall of Science took a NanoDays road trip to southern California and sent me a bunch of information about his travels! Read on for details and photos.
San Diego Science Festival
"Darrell Porcello and I drove south from Berkeley to San Diego. We had agreed to help Dr. Amy Moll of Boise State University and the Materials Research Society celebrate NanoDays at the San Diego Science Festival in Balboa Park. As it was the Science Festival's first year, we had no idea how many people to expect, and we planned for the worst. We had hoped to reach several hundred people. 50,000 showed up. Of course, not everyone came to our booth, but if sure felt like it! We interacted with visitors non-stop from 10 am to 6 pm. We gave out three boxes of Buckyballs (1500!), several hundred "Feel Nano" magnets, and countless "I'm Made of Atoms" tattoos. We ended the day exhausted, yet pumped up by the positive experiences and the innumerable people who were excited to learn about nanotechnology.
Los Angeles
"After the Science Festival, Darrel returned to the Bay, and I continued up the California coast to Los Angeles where I stopped by the Discovery Center in Santa Ana, the California Science Center, and UCLA's Center for Scalable and Integrated Nanomanufacturing (SINAM).
Nano and Society in Santa Barbara
"On Wednesday, I visited UC-Santa Barbara's Julie Dillemuth, Ph.D., at the Center for Nanotechnology in Society. I couldn't stay long because I had to be at California Polytechnic by 3pm. Kathy Chen, Ph.D., recruited me to give an "Intro to Nano" talk at her Nanocafe. What a wonderful experience! A diverse audience of 75 people showed up, played with the NanoDays kits, and listened to my short presentation. My talk was followed by Dr. Jane Lehr who moderated a discussion on the implications of nanotechnology on consumer safety.
"The next day, I made my way back to Berkeley via the Pacific Coast Highway. My nano tour through Southern California was wonderful! I hope I can do it again next year!"
-Frank Kusiak

NanoDays 2009 at the San Diego Science Festival

San Diego Science Festival