April 28, 2021
Alyson Smith, Vice President of Engagement, Arizona Science Center, Phoenix, AZ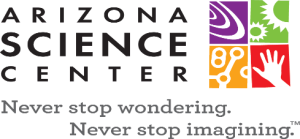 When COVID-19 hit, Arizona Science Center got creative and designed new ways to allow members and guests to safely visit the Science Center. Grateful for the almost 200,000 square feet of space, the Science Center team recognized it had the perfect setup to be able to create ways that visitors could still enjoy science safely.
Leadership also understood this time as an important opportunity to position the Science Center as a resource to help the community understand how to live, work, and manage social situations in the presence of COVID-19. While the world had changed, the Science Center's method of bringing science to guests needed to change, but the mission had not.
In this effort, Arizona Science Center completely reimagined the visitor experience and began offering limited, small-group activities - branded as Guided Experiences. Through Guided Experiences, visitors took part in rich, curated visits while maintaining social distancing. The number of visitors in the building at any one time was also kept to less than 10% of the total building capacity to follow health and safety guidelines.
Science Center Guided Experiences focused on various science themes, from space to dinosaurs to the "science of 'Yuck'" among others, and each experience featured a "wow" factor, ranging from a personal, hands-on dissection to an in-depth visit and discussion of Victoria the T. rex.
To add even more dynamic interactions, the Moon Adventure Game was added to the Space Explorer Guided Experience. In this guided experience guests explore the wonders of space. Guests start in the planetarium then go through astronaut training in our traveling exhibition space. Guests finish this experience with the Moon Adventure game where they gain a better understanding of what it truly takes to be an astronaut by working together to solve a series of challenges about living and doing research on the moon. Guests navigate their rover, extract water, fill oxygen tanks and reconnect their power supply in an attempt to save their lunar outpost. As the game is rooted in real science, participants gain relevant knowledge of space exploration.
"The Moon Adventure Game provided an opportunity to deepen the interaction and teamwork opportunities in a playful yet authentic way in the Space Explorer Guided Experience. I love that this is a multi-generational experience for our guests, and the response has been extremely positive."   

- Sari Custer, Chief of Science and Curiosity, Arizona Science Center
The guided experiences, plus the Moon Adventure Game, allowed the Science Center to connect with guests throughout a challenging year and continue its mission—to inspire, educate, and engage curious minds through science.