Partner Highlight: Celebrating the 2017 solar eclipse in the Valley of Sun
November 7, 2017
NISE Net partners in the Valley of the Sun celebrated the 2017 solar eclipse in a big way! Almost 900 people visited the Arizona Museum of Natural History on August 19, 2017 to join a pre-eclipse party co-hosted by Arizona State University, one of the lead organizations for NISE Net. The pre-eclipse party helped build excitement and awareness of the event in the Phoenix metro area.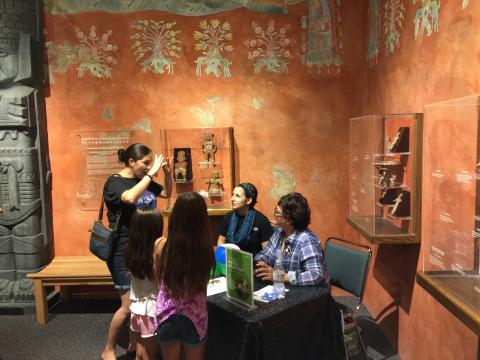 With the help of staff, faculty, and students from School for the Future of Innovation in Society and the School of Earth and Space Exploration, the museum offered over a dozen Earth and space activities, lectures, and story times, and sent families home with safe solar viewing glasses. Arizona Star Tales demonstrated a variety of additional ways families could safely view the eclipse, including pinhole cameras.
On August 21, the School of Earth and Space Exploration at ASU hosted a Solar Eclipse 2017 viewing event at the Tempe campus. Thousands of participants turned up to view the partial eclipse through solar telescopes and solar-safe glasses, watch live NASA coverage, and engage with interactive displays. ASU researchers explained the science behind the eclipse.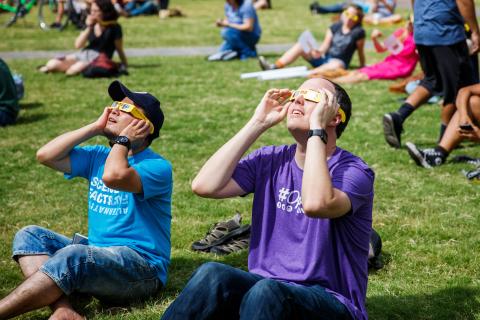 Meanwhile, NISE Net partner Arizona Science Center held a Solar Eclipse Viewing Party for approximately 2,000 community members in Phoenix with hands-on activities ranging from solar art and pinhole viewer making to rocket launching and Earth and space activities. The Center distributed safe solar viewing glasses, provided expert lectures and conversations, and live-streamed NASA coverage of the eclipse in the Dorrance Planetarium. The museum partnered with the Phoenix Astronomical Society to provide additional solar telescopes for maximum viewing. Lots of fun photos from the science center event are available on their Facebook page [see more pictures]!
For more information about any of these events, please contact Rae Ostman at [email protected].
---
Acknowledgements
This material is based upon work supported by NASA  cooperative agreement award number NNX16AC67A.  Any opinions, findings, and conclusions or recommendations expressed in this material are those of the author(s) and do not necessarily reflect the view of the National Aeronautics and Space Administration (NASA).