April 28, 2021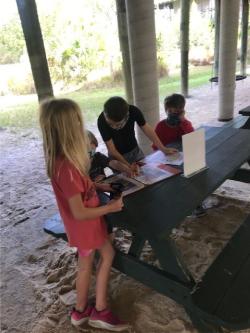 The Environmental Learning Center (ELC) is a nature center located on a 64-acre island campus in the middle of the Indian River Lagoon, Florida focused on connecting people of all ages to the natural world through hands-on, feet-wet immersive experiences. Our expansive campus and warm Florida weather allowed us to continue offering programs throughout the COVID-19 pandemic, although these programs often looked much different than before. As many students transitioned to at-home learning, the ELC offered its homeschool program, Lagoon Academy, in a new, fully-outdoor format designed to allow students to have meaningful STEAM learning experiences in a physically distanced setting.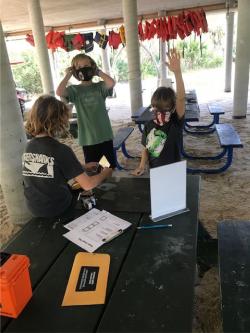 Each month, Lagoon Academy students dove deep into STEAM topics related to the natural world, discovering the wonder of the world around them from as close as right under their feet to as far as outer space. One of this year's biggest hits was our monthly theme "From Moon to Lagoon." Inspired by the NISE Network's Earth and Space toolkit, the lessons in this month asked students how life on the Earth (and in the Indian River Lagoon where we are located) is affected by the Moon, how the Moon is similar to and different from the Earth, and how we can explore places that may be difficult for humans to reach. The lessons in the Earth and Space toolkit provided a jumping-in point to explore these topics, and the ELC campus served as a living laboratory for students to explore the ideas in-depth in a safe, outdoor setting.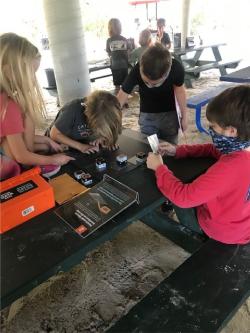 One of the biggest challenges for instructors and students this year was finding activities that could be done safely outdoors and physically distanced while still providing meaningful and engaging learning opportunities. We easily adapted the Earth and Space toolkit activities to meet this need during our "From Moon to Lagoon" study. Students worked in small groups, spaced out throughout our outdoor picnic area to study moonscapes, moonquakes, and complete the Moon Adventure Game, and then explored other areas of our campus to learn about tides, earthquakes, and more.