April 4, 2022
As part of Black History Month, Exploration Place in Wichita, KS paid tribute to four black pioneers in Earth and space science by projecting their portraits onto the side of the science center's iconic riverfront building. Each week in February 2022 honored a new individual: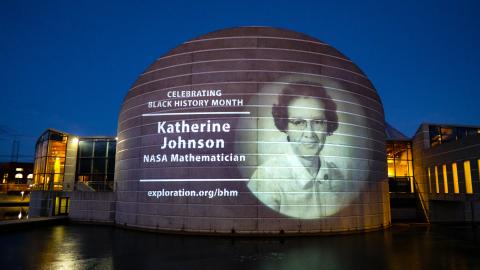 Week 1 - Katherine Johnson, a NASA mathematician whose calculations in orbital mechanics were critical to the first U.S. manned space flights.
See the display as captured by Pro-UAVision Aerial Imaging!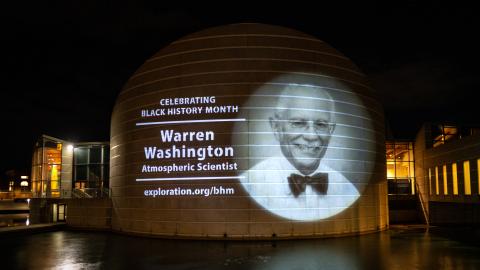 Week 2 - Warren Washington, an atmospheric scientist who helped develop groundbreaking atmospheric computer models that have helped scientists understand climate change. 
See the display as captured by Pro-UAVision Aerial Imaging!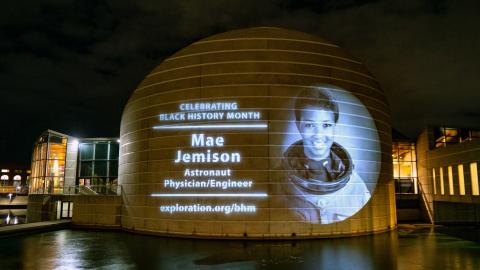 Week 3 - Mae Jemison, an astronaut, engineer, and physician who served aboard the Space Shuttle Endeavour and was the first black woman to travel into space. 
See the display as captured by Pro-UAVision Aerial Imaging!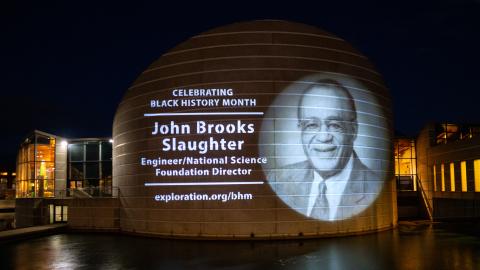 Week 4: John Brooks Slaughter, an electrical engineer and Kansas native who became the first black director of the National Science Foundation. 
See the display as captured by Pro-UAVision Aerial Imaging!
This work started as part of a project within the NISE Network's Earth and Space Project-Based Professional Learning Community. Partners Victoria Mitchell, Director of Exhibits and Programs, and Chris Flippo, Grants Manager, collaborated with The Kansas African American Museum (TKAAM), a recognized expert on African American history in their community. Through this collaboration the four pioneers of Earth and space science were selected, content for the experience was developed, and TKAAM dedicated one of their Black History Month Facebook Livestream Shows to educating audiences about the experience at Exploration Place and, of course, the contributions of these four amazing trailblazers.
The display was widely accessible, offered free of charge, viewable from the Arkansas riverfront path, and centrally located next to another popular nighttime attraction, (the Keeper of the Plains sculpture and Ring of Fire, which is lit each night). Outdoor signs were added along the riverfront path, as well as banners featuring a selection of women in STEM from the IF/THEN Collection. Participants viewing the projections and banners were encouraged to extend the experience by learning more online and reflecting on the contributions of each individual.
One of the main projects goals was to educate the community about minority scientists and inspire younger audiences to pursue careers in STEM. The display has certainly captured the community's attention, receiving local and national media coverage. The warm reception has made staff at Exploration Place consider other possible programming for this area of the building, as well as ways to continue collaboration with TKAAM. One idea is using the space for showings of films. Another is creating a similar experience highlighting Women in Science during Women's History Month 2023.
The NISE Network thanks Exploration Place and their partners at The Kansas African American Museum for all your efforts on this incredible project - thank you and congratulations on creating a truly unique experience for all!
Learn more: https://exploration.org/bhm/