September 3, 2021
In mid-July this year, a group of twenty-four campers ages 7-13 years old embarked upon an exciting new mission at Science Central, in Fort Wayne, Indiana. The science center, on its own mission to provide inspiring and fun hands-on science education for all people of all ages, developed a 5-day long summer camp program called "Mission to Mars." The program featured activities that engaged campers in everything from launching into space to working on the surface of Mars.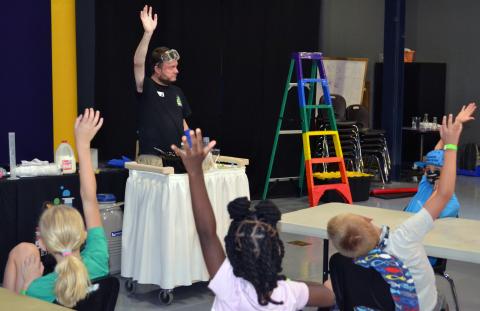 The Mission to Mars program started by asking campers to think about:
What will we need to get to Mars? 

What will we find once we arrive? 

How will we work and live on Mars?
As the mission took off, some of the activities campers got to experience included designing mission patches, developing exercise programs to keep them healthy over the long journey, and building a simple spacecraft that could use environmentally friendly "green" rocket fuel. In preparation for long-term colonization on Mars, campers also created tiny terrarium-like Mars environments using small mason jars and a combination of Earth and "Martian" soils, which they got to take home. Campers also got to drive Lego rovers to complete various daily tasks while on Mars. 
A fast favorite was the topic of food in space, and for this campers were able to sample both astronaut ice cream and ice cream made with liquid nitrogen. Far more than fun desserts, this experiment allowed campers to experience the differences between the two forms of the same food and facilitated conversations about dehydrated food and payload reduction.
The program also included two guest speakers who engaged campers in discussions about NASA's Artemis program: Patricia Moore, a NASA educator, and Charles White, a NASA educator and engineer from Paragon Tec. Moore joined campers virtually to discuss the Artemis project and answered questions from the curious explorers. White talked to campers in person about the rocket being designed for the Artemis project and some of the work that Paragon Tec is doing with NASA to develop part of the Space Launch System (SLS) rocket that will take humans back to the Moon. By incorporating these experts in the field, campers were inspired to think critically about the real challenges and possibilities for their mission to Mars.
 
The camp was a huge success! Campers and parents engaged in exciting conversations about daily activities from launch to long-term colonization of new worlds. On the final day, campers wrote letters home describing their trip, the new planet, and drew pictures to share of their new Martian home. Amy Alexander, Education Director for Science Central, said that the museum hopes to hold this week-long summer camp again in the future. Until then, they may take individual activities from the camp for use in floor programming.
Thank you Science Central for sharing back this wonderful program and for bringing this unique experience to the community!

Learn more about Science Central: https://www.sciencecentral.org/