May 27, 2021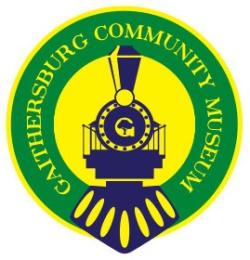 The Gaithersburg Community Museum, part of the City of Gaithersburg, is a small community museum based in the historic rail complex, but our reach is much broader. We also oversee programming at the historic Latitude Observatory and we host activities and events that explore themes of local history, railroading, astronomy, and STEM. In the Museum, learning centers for young visitors bring to life a General Store, Bank, and One-Room Schoolhouse, and our location alongside a rolling stock display allows us to highlight Gaithersburg's railroad history, too. 
Our STEM programming for children and families has been greatly enhanced by the NISE Network's Explore Science: Earth& Space kits. NISE Net's new initiative, the Sustainability Fellowship, offered me a way to inject more sustainability content into our programming. Sustainability is a priority for the City of Gaithersburg, with much of our effort being done through the Environmental Services division. But sustainability has much broader applications, and as an informal educational resource, the Museum seemed the perfect place to integrate sustainability concepts into public programming. The Fellowship gave me the luxury of exploring ways to create more adult-focused programs around this theme.
And so Green Cocktails was born. Our original intent was to create a series of mini-festivals in our adjacent and recently renovated plaza. There would be hands-on activities for visitors, brief talks, and an opportunity to enjoy local distilleries, breweries, and food trucks. Everything would be centered on the theme, "Sustainability Begins at Home," highlighting simple things we can do to be more sustainable.
And then COVID changed our plans. We pivoted to a virtual four-part Green Cocktail series running from January to April 2021. We partnered with the City's Environmental Services staff and local nonprofits, One Montgomery Green and Green Drinks, to identify topics, speakers, and expand the program's reach. We were worried that we were duplicating their efforts, but got only positive feedback on what we were hoping to achieve.
We then reached out to area distilleries inviting them to create a cocktail and video for each program which not only instructed viewers on how to make the cocktail but discussed what they did at their facility to be greener. They loved the idea and viewers said they enjoyed seeing what was happening in the area.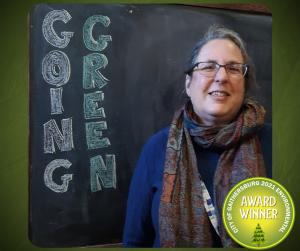 The result was a great series that has many legs to it. We added sustainability as a theme to our existing Storytime Station book readings in February, March, and April, with the April events highlighted as part of the City's overall Green Month celebration. Sustainability is now a regular theme in our programming, and we've incorporated it into our social media outreach and our Weekly Challenge. In fact, we're thinking about keeping a virtual winter series as part of our annual programming.
Another upside (besides my growing liquor cabinet) is that I received a 2021 Environmental Appreciation Award from the City of Gaithersburg, thanks to a nomination from Gaithersburg Green Drinks.
Cheers to saving the world!