Partner Highlight: Imaginarium of South Texas
December 30, 2011
The Imaginarium of South Texas in Laredo, TX has been an involved member of the NISE Network since 2008 when they first started hosting NanoDays events. This past year they took their programming to a new level by adopting the "Alice in Nanoland" children's book and making it all their own. 
As a part of a STEM Weeks series that began in 2009, the Imaginarium hosted a Nanotechnology Week in 2011 in conjunction with NanoDays. Other STEM Weeks events have include Science (Earth Science), Engineering (E-Week), as well as a week-long mathematics celebration. 
The Imaginarium's NanoDays week included a "Girls Day" and a "Boys Day" where local Girl Scout and Boy Scout troops were invited to attend. They also used the 2011 NanoDays kits during their week of hands-on nano education programming. However, the real buzz at the museum was centered on the week's puppet show. The Imaginarium staff adapted the book "Alice in Nanoland" into a stage puppet show, and it was a crowd hit! The show begins with a volunteer dressed as the main character, Alice. As the story is read, Alice drinks from the bottle and begins to 'shrink' into the size of a puppet. The puppet Alice goes on to experience the many surprises in Nanoland.  Kids requested this puppet show all week and parents loved the playful ingenuity.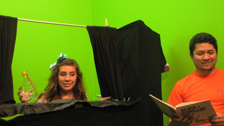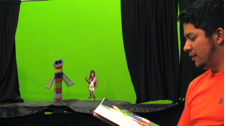 This is just one great example of how the NanoDays kits can be adopted to fit a variety of audiences. To find out more about this program, please contact Lisa Chappa at the Imaginarium of South Texas at lisa@imaginariumstx.org.