July 28, 2020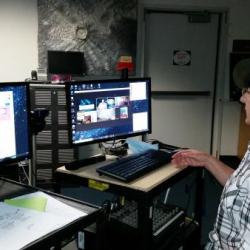 Although New York announced that summer day camps can be conducted onsite, Kopernik Observatory & Science Center decided to instead host a series of eight different online summer STEM camps that children will be able to enjoy from the safety and comfort of their own home. 
Link Summer STEM Explorations, Grades 3-9
Online camps, which are limited to 20 students, run daily during their scheduled week from 9AM to 3PM EDT, with a combination of live presentations and demonstrations by Kopernik's educators and guided at-home activities during which time the educators are accessible to the camper to monitor progress and answer questions. During the camp day, morning and afternoon sessions provide breaks for physical activity, snacks, and bio breaks for students. 
As part of the online camp experience, each camper receives a packet of materials specific to that week's activities. For most camps, activities may require some additional materials commonly found in the home such as paper, colored pencils/crayons, scissors and tape, but some camps may ask parents or guardians to purchase supplies that are relatively inexpensive but too costly to mail. Some camps also require students to go outside to observe the weather or collect various samples of plants or rocks to be used during an activity. 
Online summer camp schedule
Read the full camp descriptions at https://www.kopernik.org/descriptions-registration/summer-camps/
June 29 - July 3: Weather Disasters from Floods to Tornadoes 
July 6 - 10: Creative Construction
July 13 - 17: The Search for Life Beyond the Earth
July 20 - 24: Secrets of Code
July 27 - 31: Space and Stars
August 3 - 7: Entering a Virtual Universe
August 10 - 14: What's in Your Backyard? Become a Nature Scientist!
August 17 - 21: Welcome Aboard the International Space Station
Summer camps featuring NISE Network Explore Science: Earth and Space activities
A small group of future 5th and 6th graders were the first participants in Kopernik's online summer camp, taking part in Weather Disasters Week (June 29 - July 3), exploring floods and tornadoes. Educators were quick to adapt their in-person camp experience into an online format; this first online camp allowed the educator team the opportunity to fine tune their Zoom skills and the camp format for future online summer camps, ensuring the day provided enough balance for its students keeping them all involved and focused yet providing necessary breaks. This camp included guest speakers Rob Martin from TV40 Weather and Dr. Stacey Boland from NASA, which were a big hit, as well as incorporating some NISE Network Earth and Space activity demonstrations to support student learning around weather. NISE Network activities used as part of this camp included:
The educators were outstanding in engaging the student and also making them accountable in their participation. Bravo! The guest speakers were very interesting! I was especially grateful that I was able to work from home undisturbed for long periods of time! Kudos to the great instructors! I will be spreading the word on what a great virtual camp this is!

~ Parent evaluation feedback
During Space and Stars Week (July 27 - 31), students explored what lies beyond our Solar System, including fun demonstrations and activities to help students explore a wide range of topics from stars and constellations to galaxies, how telescopes work and how to observe the Sun safely, we well as black holes with experiments in gravity. One of the NISE Networks' Earth and Space activities that was used as a demonstration during this camp was:
---
From Kopernik Observatory Summer Camp survey, 100% of our students' parents so far indicated that the students discuss the camp outside of camp time and continued our STEM activities after the camp.
---
While offering online camps has been a learning experience, both by our educators and campers, Kopernik feels it is important to offer our programs to keep the spark of curiosity alive in our youth and show them that we explore, discover and learn just about anywhere! 
To learn more about Kopernik Observatory & Science Center's 2020 online camps, Link Summer STEM Explorations, visit https://www.kopernik.org/descriptions-registration/summer-camps/, or contact Tish Bresee at [email protected].