February 23, 2015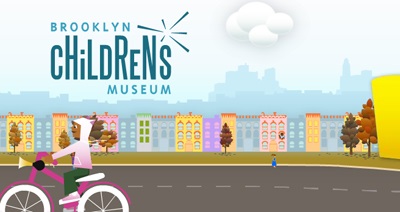 How do you get a science center, technology museum, a national science network, a public library system, a 3D printing service and marketplace, a camera company, and a university research center to work together—you just have to pick up the phone and talk about nanotechnology.
In the Spring of 2014, a colleague from the Sony Wonder Technology Lab called with an inquiry about co-hosting the Nano Mini-Exhibition in New York City. The exhibition was scheduled to land in Manhattan for a year, but due to shifting exhibition schedules, they needed to find a new home for the exhibit—and why not in Brooklyn? I jumped at the chance to host the exhibit and to fill a gap in the exhibition schedule at Brooklyn Children's Museum.
We had been working with NISE Network for the past year by hosting our first NanoDays and utilizing the Nano kits in afterschool and public programming. It seemed like a natural fit to try and host the mini-exhibition, but unfortunately, at 400 square feet, the exhibit just wasn't large enough to hold a fall exhibition slot. So with the concept of Nano in mind, I started to look for appropriate exhibit pairings of similar small experiences to create a larger 1500 square foot exhibition. My goals were to introduce children to the science of understanding the micro-world, and then see how discoveries in these fields lead to technological innovations.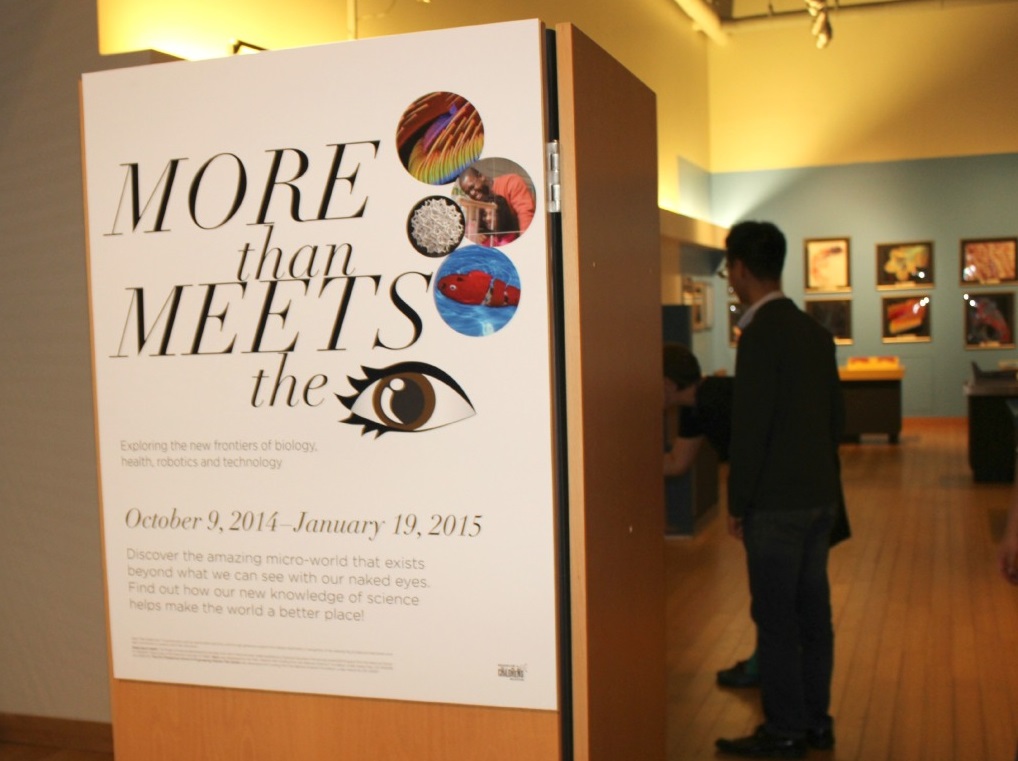 What came together became known as an exhibition called More Than Meets the "I": Exploring the new frontiers of biology, health, robotics, and technology. 
Having worked at the New York Hall of Science for many years, I was familiar with a fantastic exhibition called Molecules & Health: The Shape of Science. This exhibit, which was developed with a wide range of hands-on activities, showcased opportunities for exploring nano sciences. Kids could see how many molecules were inside of them, build molecule models, and explore how advances in molecular biology can shape the health industry. 
To flesh out the micro world, the Museum was able to secure a loan of the Nikon Small World Photomicrography competition. Small World celebrates the achievements of photography through the light microscopes and includes amazing images of organisms at the cellular level.
At the time of planning the exhibition, a number of news articles regarding 3D printing at the cellular level were being circulated, and I thought that there was an interesting opportunity to tie in this new technology. Through a connection at Shapeways, a 3D printing service and marketplace with a NYC location, we co-curated a small exhibit to help unpack the concept of 3D printing. We included some very small and detailed objects (like miniature doll furniture) to also explore the technology behind making extremely detailed objects at a very small scale.
Through conversations with the NYU Polytechnic School of Engineering, we brought in COMMODORE, a robotic fish that swam underwater and was controlled with an iPad. The actual fish body was constructed utilizing 3D printing technology and created an opportunity for us to also discuss the emerging field of nanorobotics.
To tie the whole exhibition together we worked the Uni Project, a nonprofit dedicated to bringing unique mobile libraries to alternative locations and Brooklyn Public Library to create a science reading station that featured over 100 books focused on the themes found in the exhibition.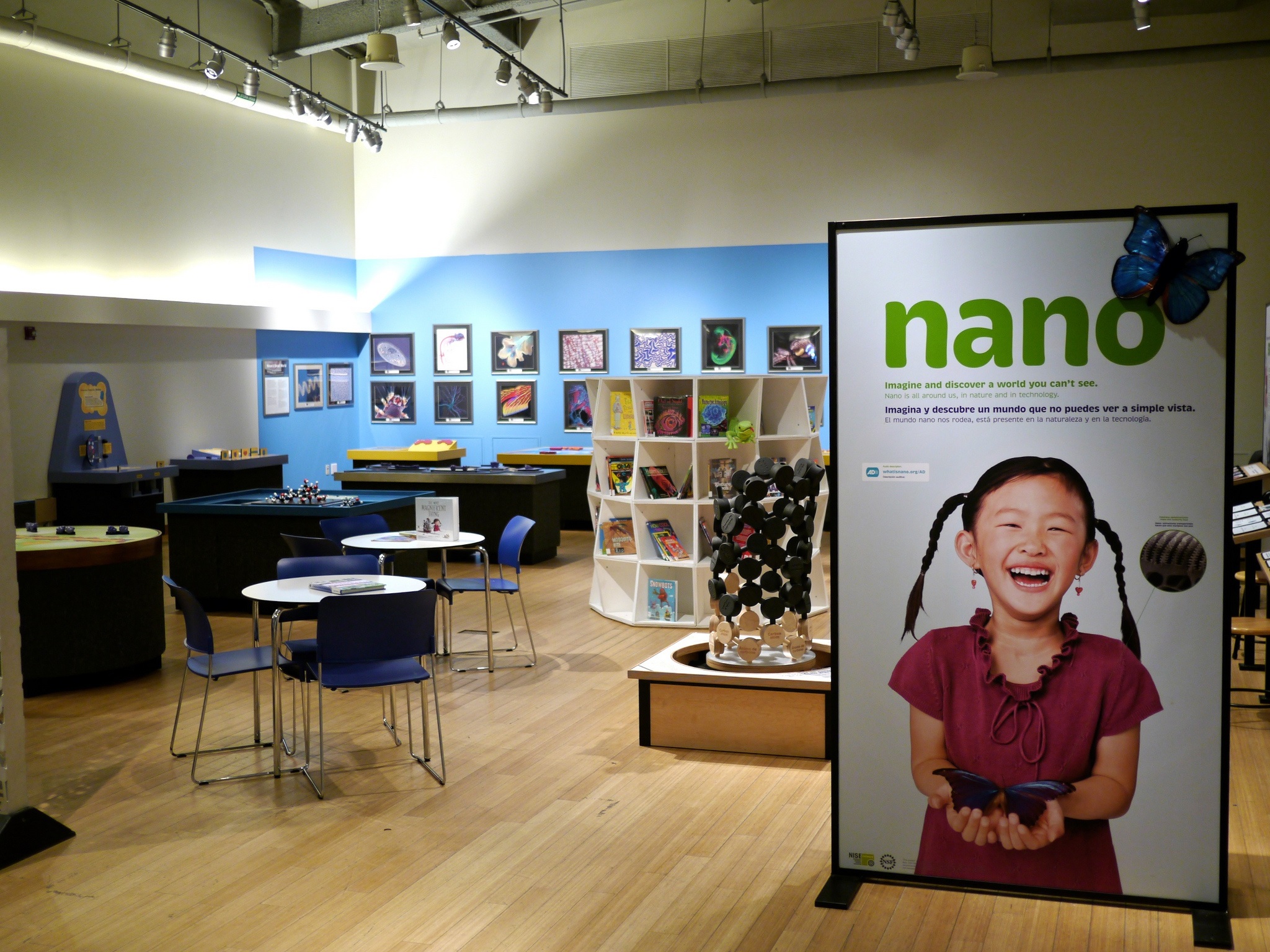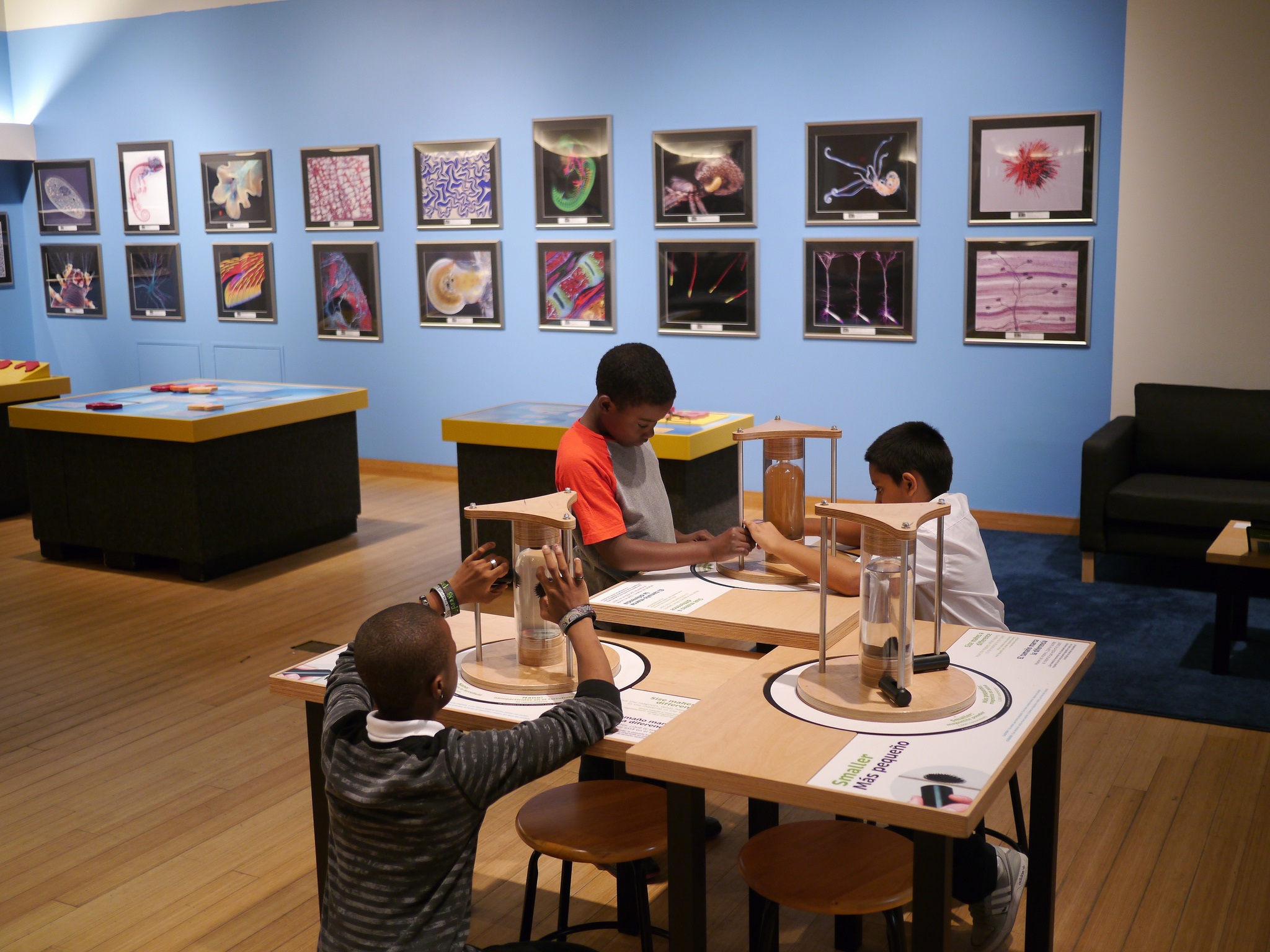 Curating all of these experiences into one exhibition provided our visitors with unique ways to explore unfamiliar science topics. Utilizing the Nano Mini-Exhibition as a catalyst for a larger story about emerging technologies broadened our conversation about what role nanotechnology has at a children's museum. We're continuing to explore this topic through a new nanocart initiative that is in development, and through the continued display of the Nano Mini-Exhibition in our visiting exhibitions gallery.
To learn more about NISE Net partner, Brooklyn Children's Museum, visit http://www.brooklynkids.org/ or contact the NISE Net's Northeast Regional Hub Leader.
More images of the exhibition: 
Our Partners Included: