Partner Highlight: Real-World Examples of NISE Net's Team-Based Inquiry (TBI) - Maryland Science Center Shares Their Evaluation and Capacity Building Project
January 4, 2015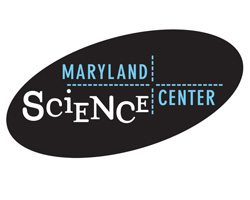 Developed by the NISE Network, Team-Based Inquiry (TBI) is a practical approach to empowering education professionals to get the data they need, when the need it, to improve their products and practices, and ultimately more effectively engage public and professional audiences. The TBI process involves an ongoing cycle of inquiry: question, investigate, reflect, and improve.
In 2014, Maryland Science Center was awarded a NISE Net mini-grant and was invited to participate in the 2014 Team-Based Inquiry Cohort, which was made up of 20 staff from 10 NISE Net partner institutions, providing cohorts with in-depth TBI professional development training both virtually and in-person. As part of their mini-grant project, Maryland Science Center created a new stage program presented on their museum's demonstration stage introducing audiences to nanoscale science and engineering, supported by a training session on nanotechnology for staff and volunteers. 

As part of their TBI Cohort project, they conducted a study evaluating the newly developed stage program consisting of audience observations, staff reflections, audience sticker surveys, and audience responses to presenter prompts provided out loud or in writing. Before the show, sticker surveys and notecards were provided to participating audience members. During the show, an observer made note of audience interactions with show materials and responses to presenter prompts. Overall, audience rating of the personal relevance of nano increased by an average of 3 points on a 7 point scale after watching the show. Audiences engaged successfully with hands-on materials and were able to invent novel applications of materials introduced during the show.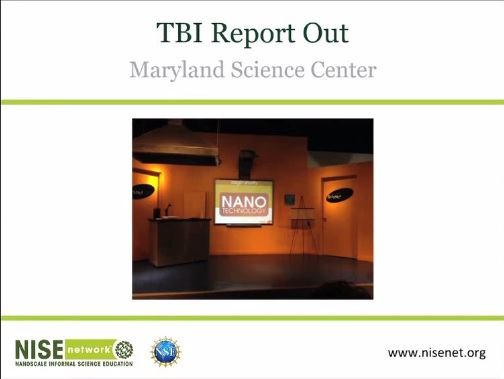 Additionally, Maryland Science Center conducted a secondary study of the staff training workshop consisting of surveys intended to assess staff comfort with and knowledge of nanoscale science, distributed before and after the workshop. All staff attending the staff training reported an increase in knowledge for at least one aspect of nanoscale science, with 9 out of 10 participants reporting an increase in knowledge of how nano relates to everyday life.
To hear more about the Maryland Science Center's full cohort project, watch their 2014 TBI Cohort project presentation. To view all 2014 TBI Cohort presentations and to find additional TBI resources go to http://www.nisenet.org/catalog/team-based-inquiry-tbi-cohort-2014-organizations-describe-their-evaluation-capacity-building.
To learn more about NISE Net partner, Maryland Science Center visit http://www.mdsci.org/. For more information about NISE Net's Team-Based Inquiry (TBI) professional development approach or the TBI Cohort, contact Sarah Cohn, Cohort Leader, from the Science Museum of Minnesota.