Partner Highlight: Real-World Examples of NISE Net's Team-Based Inquiry (TBI) - Tulsa Children's Museum Shares Their Evaluation and Capacity Building Project
January 29, 2015
Developed by the NISE Network, Team-Based Inquiry (TBI) is a practical approach to empowering education professionals to get the data they need, when the need it, to improve their products and practices, and ultimately more effectively engage public and professional audiences. The TBI process involves an ongoing cycle of inquiry: question, investigate, reflect, and improve.

Opening less than two years ago, Tulsa Children's Museum's Discovery Lab hosted their organization's first Nano Camps last summer. This newest camp program was supported by a NISE Net mini-grant and staff also participated in the 2014 Team-Based Inquiry (TBI) Cohort to help them evaluate and improve the program.
Primary educational focus at Tulsa Children's Museum is on helping to foster Next Generation Science Standards or 21st Century process skills. The focus of the Nano Camp was on developing collaboration and problem solving skills through hands-on activities and experimentation. The full-day, week-long camp was offered twice: first as a pilot camp for grades 3-6, then as a second camp targeting younger kids (grades k-2). Throughout the week, campers kept journals about what they learned while introduced to nano topics. Additionally, the week's hands-on activities ended with a group culmination project (building a carbon nanotube out of balloons!). Three hands-on activities of particular use for the campers were Exploring Products - Computer Hard Drive, Exploring Nano & Society - You Decide, and build Balloon Nanotubes.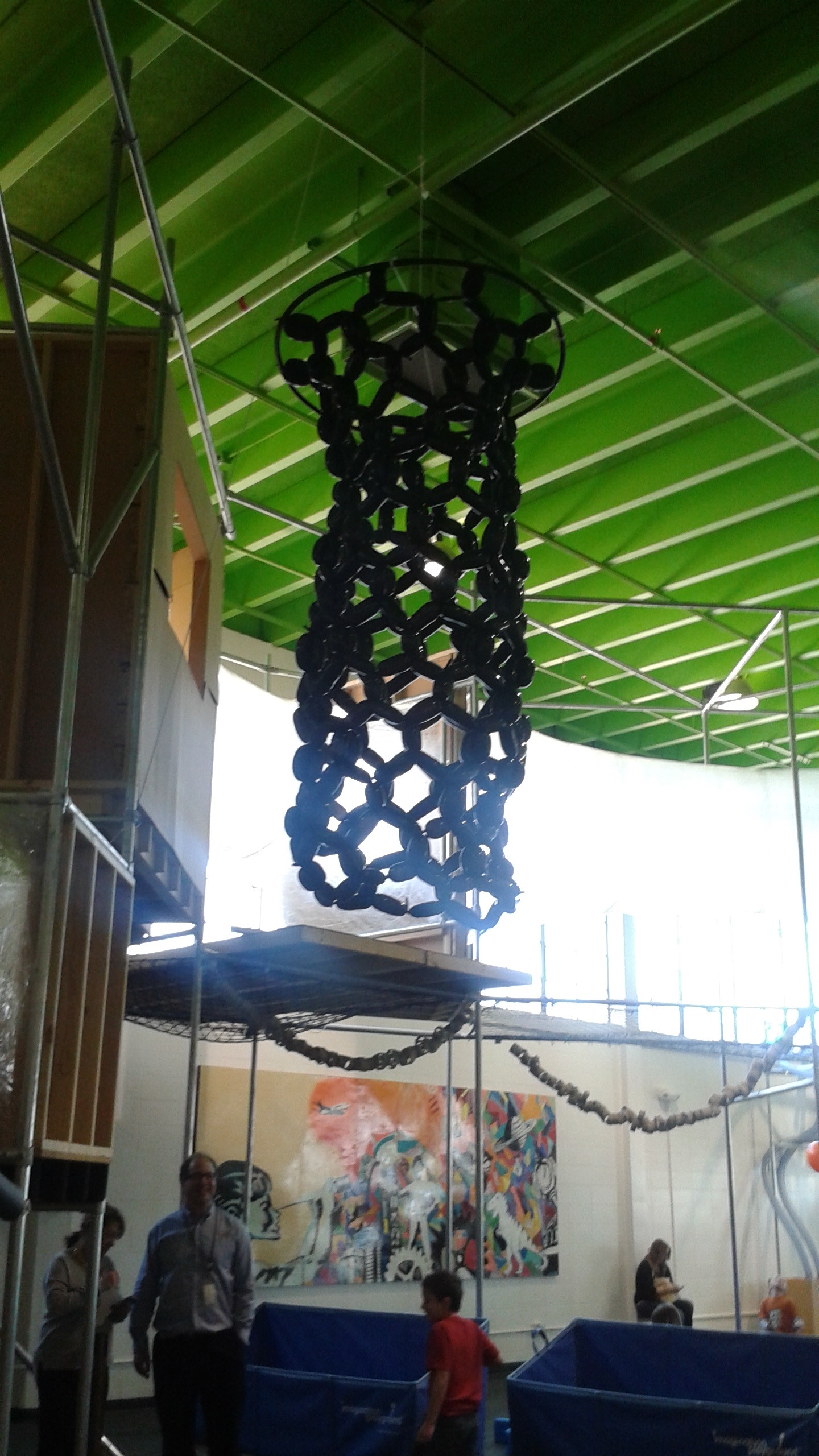 Through inquiry-based facilitation, each activity required the children to use teamwork and problem-solving skills. The kids enjoyed the hands-on activities and were intrigued by the concept of nano, with one of the Spanish-speaking campers even identifying connections between the term nano and their own language and culture.
As Linda Allegro, Director of Educational Impact states, the children "were trying to understand the scale of what we were addressing. I think that, in and of itself, was most significant about the camp – the exposure to the nano scale (a billionth of a meter)."
As a way to evaluate their first nano-themed camp, Tulsa Children's Museum conducted their own team-based inquiry project, which provided a great amount of insight on their camp experience both from the campers and the educators. A number of evaluation methods were used to collect data including focus groups within the camps, video recordings of discussions, and recording of camper comments. Educators found some of these methods to work better than others given the age group, but overall found the TBI process enlightening and informative for future camp programming.
In addition to the Nano Camp, Tulsa Children's Museum supports the exploration of nano science and technology among its young visitors in a variety of ways. This spring, Tulsa Children's Museum will be participating in NanoDays 2015 and is receiving their third NanoDays physical kit. They have also recently been awarded a Nano Mini-Exhibition and have plans to collaborate with graduate students from the local University of Tulsa's Institute of Nanotechnology to either help train their staff on nano topics or potentially serve as guest speakers. Tulsa Children's Museum has found that the social and ethical discussion around nanotechnology is a popular subject, which they hope to continue to explore through the aid of all these valuable resources.
To hear more about Tulsa Children's Museum full cohort project, watch their 2014 TBI Cohort project presentation (skip to minute 0:24:16-0:42:20) and to find additional TBI resources go to http://www.nisenet.org/catalog/team-based-inquiry-tbi-cohort-2014-organizations-describe-their-evaluation-capacity-building.
To learn more about NISE Net partner, Tulsa Children's Museum visit http://tulsachildrensmuseum.org/. For more information about NISE Net's Team-Based Inquiry (TBI) professional development and evaluation-capacity building approach or the TBI Cohort, contact Sarah Cohn, Cohort Leader, from the Science Museum of Minnesota.
Other related NISE Net resources and activities:
The full list of NISE Net hands-on activities covered in the Tulsa Children's Museum Nano Camps included:
Exploring Products - Computer Hard Drives
Exploring Tools – Mystery Shapes
Exploring Materials – Hydrogel
Exploring Fabrication - Gummy Capsules
Exploring Properties – Invisibility
Exploring Properties - UV Bracelets
Exploring Size - Moving Molecules
Exploring Fabrication – Electroplating
Exploring Tools - 3D Imaging