September 1, 2020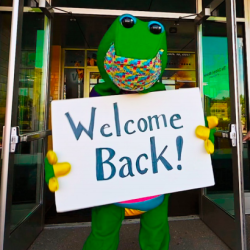 With 472,900 square feet of space and 120,000 artifacts, re-opening the world's largest children's museum during a pandemic may seem next to impossible. Nonetheless, the intrepid staff of the Children's Museum of Indianapolis did just that in July 2020. Currently, they are still going strong, and a quick look at their website can provide us all with some simple strategies to facilitate bringing audiences back through their doors.


For those planning their visit to the Children's Museum of Indianapolis, one of the first items they'll find on the museum's website is the new "COVID Safety Procedures" list. This extensive list includes guidelines and tips for their changing procedures, as well as both a video and detailed images/slides to help parents prepare themselves and their children for the new experience: https://www.childrensmuseum.org/procedures.
The state of Indiana and the city of Indianapolis had mask mandates, which meant visitors to the museum were required to wear masks. To help families explain mask wearing to young children, the museum created resources for their social media channels. This includes a short animated video and infographics demonstrating how to wear a mask featuring the museum's mascot Rex. As the changes to the museum can be upsetting to children, the museum updated their sensory maps and visual checklist to include changes to the exhibits and mask requirements: https://www.childrensmuseum.org/visit/accessibility/sensory-resources.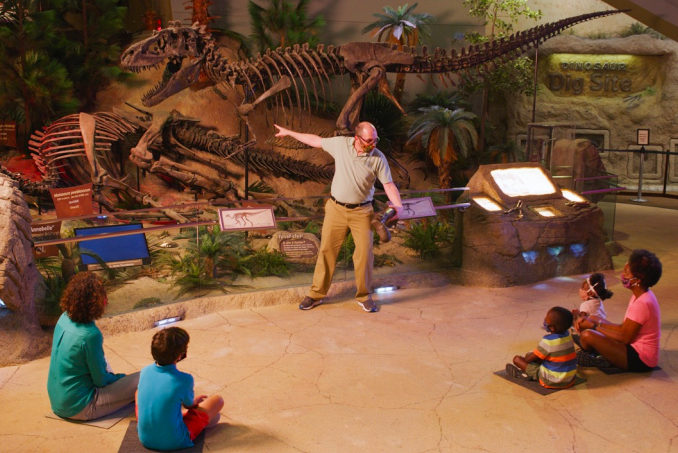 Another wonderful resource provided for those planning their visit is the list of "Safety Exhibit Updates." The exhaustive inventory details every change made to every experience in the museum. No surprise, there are a few closed areas during this time, but also some areas that are able to operate with no change. This is no doubt a vital resource for families preparing to return to the museum, wondering how the new experience may go and wanting to feel safe as they bring their children back to play: https://www.childrensmuseum.org/content/safety-exhibit-updates.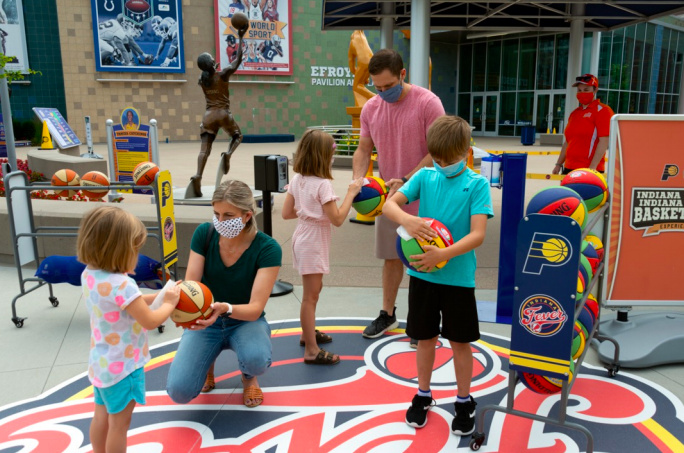 Keeping the world's largest children's museum clean is a team effort, with staff from all departments pitching to wipe down exhibits, high tough areas, and even helping out in the museum's laundry room. Sanitization is certainly at the forefront of everyone's minds right now, and another way the Children's Museum of Indianapolis keeps its audiences in the know is by providing a cleaning schedule of all exhibits. Cleaning times vary across all, so there is always a wide variety of programming still available for families, even when their favorite closes for cleaning: https://www.childrensmuseum.org/content/exhibit-cleaning-times.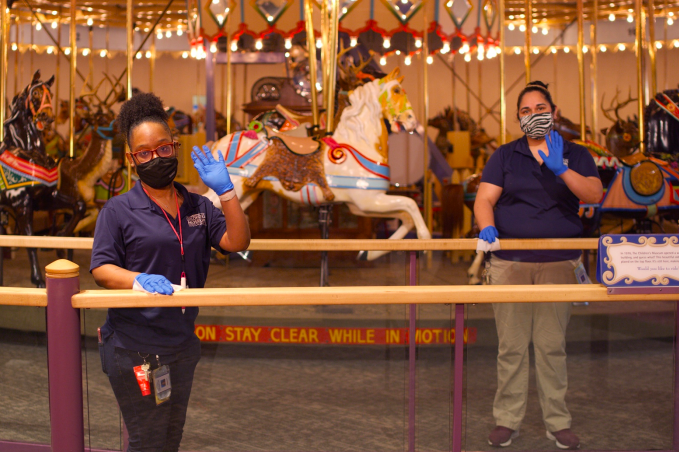 The safety of all audiences definitely comes across as first and foremost for the museum. A fact that surely provides comfort for families who wonder if it's the right time for their households to venture back out into the social community. A huge Rex-sized thank you to all our friends at the Children's Museum of Indianapolis for ensuring your community has a safe place to play!