March 31, 2021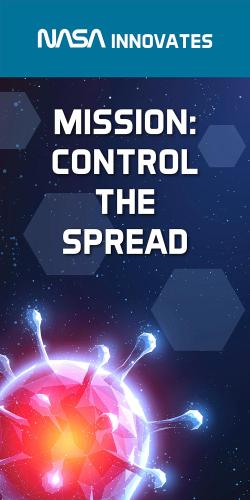 NASA research and discoveries about the "space" beyond our world fuel technologies that benefit humanity every day right here on Earth. So it should come as no surprise that the space agency is helping with innovations to support a global response to coronavirus (COVID-19). Space Center Houston's temporary exhibit "Mission: Control the Spread" explores how crisis sparks innovation and highlights how NASA is helping with the response to COVID-19. Recently, NISE Network Midwest partner Space St. Croix had the opportunity to bring content from this exhibition to the Hudson Public Library in Hudson, Wisconsin. 
Space St. Croix is a non-profit providing youth in Hudson, Wisconsin and the surrounding areas with better access to learning opportunities around aerospace engineering and other NASA STEAM content. Founder and Executive Director Christopher Mick has been driven by a life-long passion for everything space to develop an array of inspiring programs based on real data, stories, and all the excitement around the universe. 
Mick's work as a Solar System Ambassador gave him the chance to learn about the exhibition. "I heard about the opportunity for the exhibit through my involvement with the NASA Museum and Informal Education Alliance," says Mick. "I signed an exhibition agreement and then Paul (Paul Spana, Exhibits Director at Space Center Houston) sent the Art Files over to me in an email."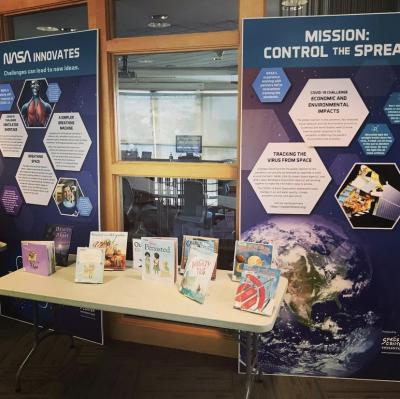 The exhibition was installed at the Hudson Area Public Library in late January 2021. It consists of ten graphic panels, each 48 x 96 inches, and mounted on ½ inch thick foam core. The panels tell the story of how scientists and engineers at NASA help to combat COVID -19. Visitors can learn more about how viruses work, how our bodies respond, and discover why astronauts study vaccines in space and how NASA quarantines space station astronauts before and after missions.
The library has been a great place in the community to display the exhibit. "There have been a lot of positive comments," says Mick, who looks forward to taking the exhibition further once the library is again hosting on-site, hands-on programming. "I am currently looking at doing a virtual or recorded presentation sometime this Summer that we would post to the Library's YouTube Channel," adds Mick, who is also in the early stages of partnering with other area organizations interested in displaying this content.
Photo: Two of ten graphic panels from "Mission: Control the Spread" at the Hudson Area Public Library (Credit Space St. Croix)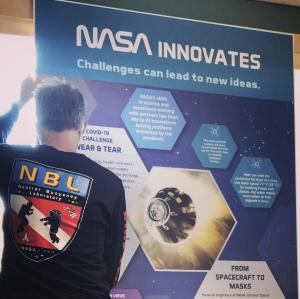 Thank you Space St. Croix for bringing this very interesting and timely content to audiences in the upper Midwest!
For more information on Space St. Croix: https://www.spacestcroix.org/
For more information on "Mission: Control the Spread," including the temporary exhibition on display at Space Center Houston that includes NASA innovations such as wearable technology, ventilators, and sanitation equipment: https://spacecenter.org/photo-gallery-mission-control-the-spread-exhibit/
Photo: Christopher Mick during the installation of "Mission: Control the Spread" at the Hudson Area Public Library (Credit Space St. Croix)