March 2, 2021
Talk About Genius! At Home in a Digital World of Play and Learning
In March of 2020 we faced the realities and challenges of the COVID Pandemic and its impact on our programming for children and families.  We took stock of our resources and soon discovered we were confronted by unlimited new and novel opportunities to support our mission. Supported by NISE Network activities and materials, our amazing partners, and grants, we quickly pivoted to digital programming. Thirteen activities from Let's Do Chemistry and 2019 and 2020 Explore Earth and Space kits were selected for video productions.
The activities, chosen because their content and processes communicated well via online videos and because of their visual appeal, included: Sublimation Bubbles, Bear's Shadow, Land Cover, Investigating Clouds, Temperature Mapping, Rising Seas, What's in the Water?, Early Explorations, Build a Battery, Orbiting Objects, Nebula Spin Art, Star Formation, and Design, Test, Build. Using NISE Network training videos and research documents, as well as their own research and creativity, an amazingly talented and diverse group of 14 children and teens, ages 6-14, not only starred in these productions but also assisted in writing the video scripts.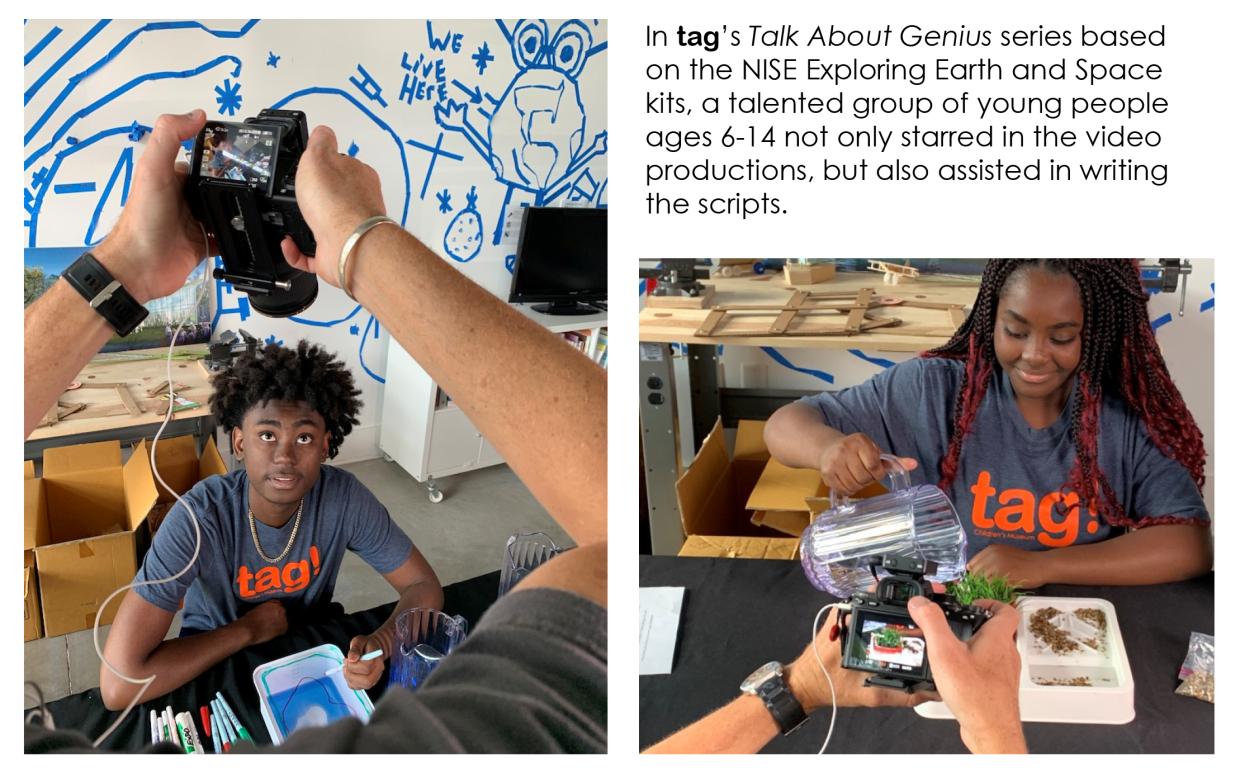 The videos, Talk About Genius! https://tagmuseum.org/videos/, were created by our accomplished and innovative partner, Cycle Here Media. They premiered every Wednesday morning from June through August, 2020 and then repeated in the fall. These playful, imaginative videos were a huge success – garnering over 75,000 views on our social media platforms – Facebook, Instagram, Linkedin, and Vimeo. In addition to weekly postings on these platforms and our website https://tagmuseum.org, we ensured that we were able to reach many of our underserved populations by sending weekly videos to families, community organizations including St. Augustine Youth Services, Big Brothers and Big Sisters, and the Boys and Girls Club, and elementary summer school and after school groups. Families homeschooling their children communicated that the videos added fun to their science programs. The videos were also shared with other Children's Museums across the US.
Sing a Song of Science
Some of the most rewarding dividends of our pivot to digital play and learning were the development of new partnerships and collaborations and the opportunity to serve a very special audience of enthusiastic and diverse learners – Talk About Genius! Our initial video series captured the attention of a community organization recognized for its work in supporting the growth and learning of special needs children, Connecting Thru Music and First Coast Music Therapy, a Northeast Florida business dedicated to providing quality, clinical music therapy services and educational resources to children and adults of Northeast Florida. Museum staff and board members were thrilled for the opportunity to broaden and enhance the museum's reach to special needs children through the medium of music. Several meetings and Zoom communications later, a plan was crafted. 
Along with our two new partners and long-time partners, Cycle Here Media, the museum staff reviewed NISE Network activities from both Explore Science: Earth and Space 2019 and 2020 and Explore Science: Let's Do Chemistry kits. Four activities were chosen for science and musical interpretation: What's In the Water?, Land Cover, Star Formation, and Nature of Dye. The content of each activity served as a jumping-off point to create songs and scripts which conveyed concepts and vocabulary included in the original activities. Some very special children starred in these celebrations of science and song and were joined by Steven Amburn, founder of First Coast Music Therapy. Mr. Amburn wrote the songs and scripts for the videos. Production, direction, filming, and editing were provided by the award-winning team at Cycle Here Media. We were fortunate to be awarded grant funds from The Community Foundation of Northeast Florida. The grant covered many of the expenses of video production.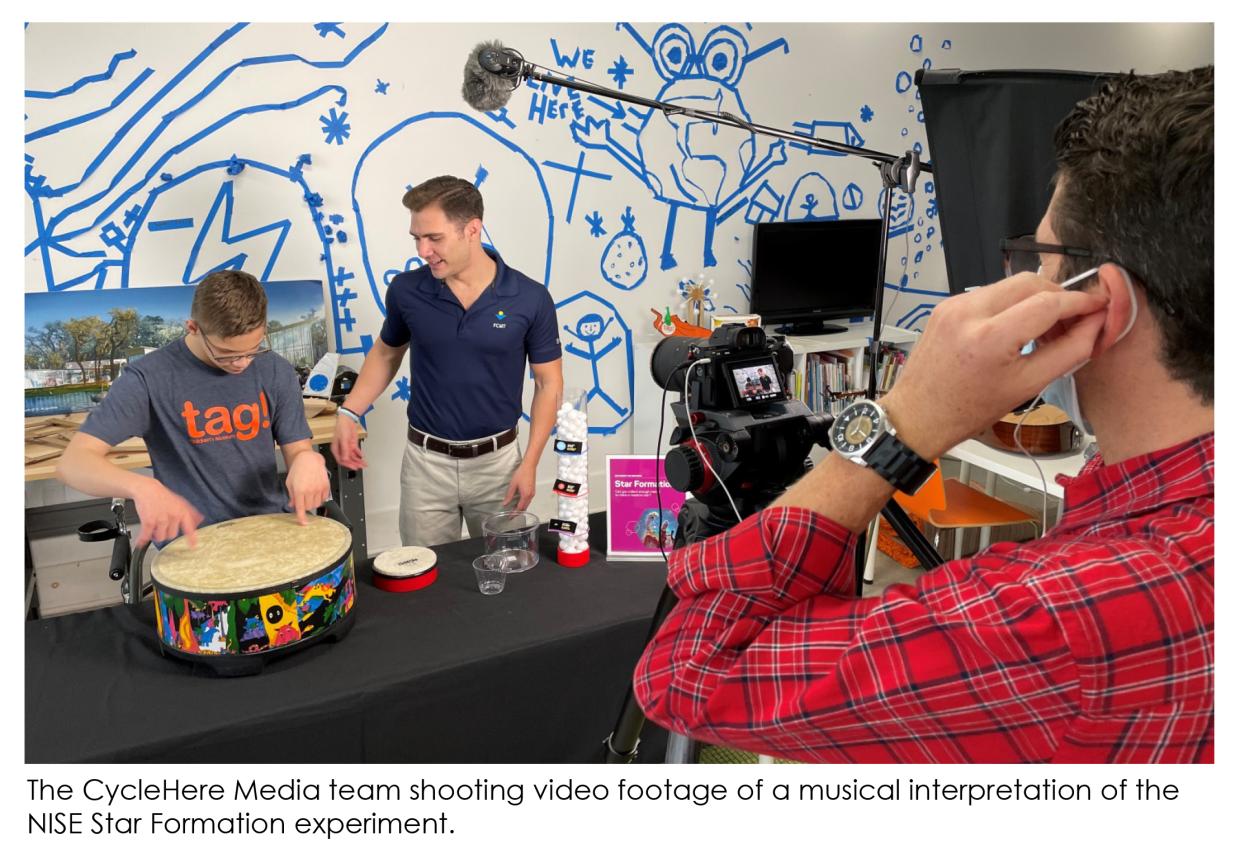 The first of these inspiring videos, What's In the Water?, https://tagmuseum.org/videos/ premiered in January of 2021 on our media platforms https://www.facebook.com/tagmuseum/ with 2000+ initial views. These videos are being used in classrooms with diverse learners with future plans to be used in pediatric hospitals and potentially showcased on local lifestyle and news television programs. 
NISE Network kits and resources have enriched tag! Museum's programming for several years at our studio workshops, summer camps, Title 1 School family events, events at local youth organizations, and special events for many of our partners such as Big Brothers and Big Sisters. The activities found a new medium in the video series Talk About Genius! and have now inspired playful science songs for learners of all ages and abilities. We are so grateful for the work of the NISE Network team and their partners. And the beat goes on!