April 8, 2021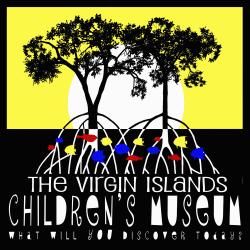 The Virgin Islands Children's Museum (VICM) developed its At Home Discovery Kit Program to stay connected to the community while the museum was closed due to the COVID-19 pandemic. The first two rounds of kit distribution, which occurred during the 6 months the museum was fully closed, were a means to keep kids engaged and inspired to create and learn at home. Although the VICM is now scheduling private pod visits three times a day, we've continued the discovery kit program to reach those that cannot physically come into the museum. Discovery kits are distributed throughout the territory, which means they travel by car, ferry boat, and seaplane to reach families on the islands of St Croix, St John, St Thomas, and Water Island.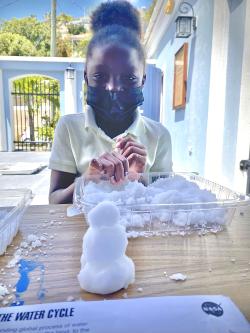 The VICM strives to facilitate children's exploration of science, technology, reading, engineering, art, and math (STREAM) through active engagement and play. Each discovery kit is curated around a central theme with contents tailored to specific grade levels and built by staff and community volunteers. Every kit provides some combination of age-appropriate activity pages, art supplies, books, posters, stickers, toys, and hands-on activity materials. All of the kits have included materials provided to the VICM by the NISE Network such as bookmarks, temporary tattoos, GLOBE Observer citizen science information and activity pages, and the primary activity in the Earth science discovery kit was Paper Mountains.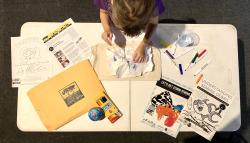 Most of the discovery kits, which are provided free-of-charge to all, are gifted to low-income families through partnerships with multiple social service organizations. Families visiting soup kitchens and staying in homeless shelters are among those receiving kits, and so it was especially important to provide all the materials, not just instructions, required to do the kit activities.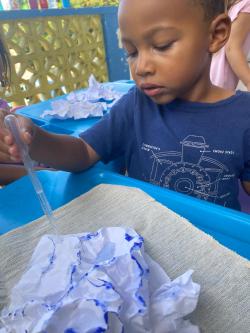 Various community partners contribute content or the financial support that allows the VICM to provide this service. The VI Department of Fish and Wildlife provided coloring books for the Natural History themed discovery kit; the Virgin Islands Marine Advisory Service provided water quality testing kits for the water science discovery kit; the Virgin Islands Experimental Program to Stimulate Competitive Research and Storm Strong VI provided activity books for the Earth science discovery kit; mathematics and chemistry professors at the University of the Virgin Islands helped design activity pages for the water cycle discovery kit. The VICM is now partnering with the Virgin Islands Department of Health's project LAUNCH team to design and distribute a mental and behavioral health-themed discovery kit. Ideas are flowing and partnerships are growing!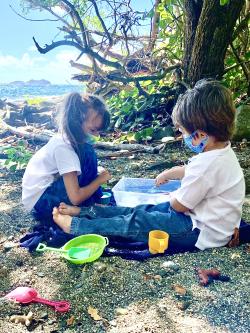 The Virgin Islands Children's Museum is a small and relatively young museum, and thanks to collaborations and new outreach efforts like the At Home Discovery Kit Program it continues to be a community resource and is staying #VISTRONG.
Visit our website www.vichildrensmuseum.org
Follow us on Facebook and Instagram @vichildrensmuseum
Subscribe to our YouTube channel, https://www.youtube.com/channel/UCOKDBfcljDU4flLr3pzqqVg 
Send comments and ideas to the VICM Director of Programs, Amber McCammon, at [email protected]