November 8, 2023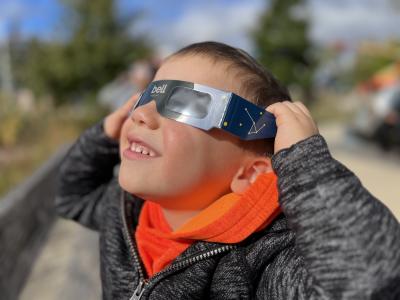 We are thrilled to hear so much positivity from partners about their events to celebrate the October 14, 2023 Annular Solar Eclipse! It's wonderful to hear stories and see photos that capture the excitement you brought audiences. Even for those who experienced clouds and rain, it seems everyone was prepared and adapted in order to create safe, successful, and memorable events for participants. We are also incredibly grateful to the many who brought out their Explore Science: Voyage through the Solar System kit and other NISE Network Explore Science: Earth and Space resources for the occasion. We are honored to have had the chance to be a part of these unforgettable events with you and your audiences.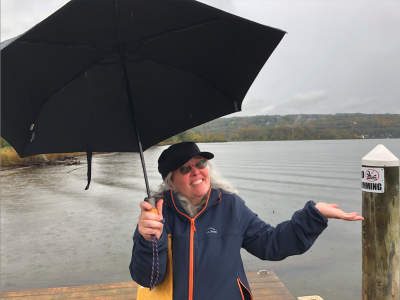 Whether you had a great view of a partial or total ring of fire, or if cloudy skies have you crossing your fingers for better luck during the April 2024 Total Solar Eclipse, we invite you to join us on Tuesday, January 9, 2024 for our first online workshop of 2024: Totality or Bust! Partners Talk Planning for the 2024 Total Solar Eclipse. We will hear from some partners, including those on and off the path of totality, about their plans for April 2024 and possible insights from experiences during the 2023 Annular Solar Eclipse. Sign up now and start the new year off right by hearing all about what colleagues have planned for the next big solar science event!
Until then, we would like to highlight just a few of the events partners held to celebrate the October 14, 2023 Annular Solar Eclipse. Below you'll find some fantastic photos and details to inspire plans for April 2024.
Finally, please continue to watch our solar eclipse resources page for the latest materials and more for use during the 2024 Total Solar Eclipse: https://nisenet.org/solareclipse
---
October 14, 2023 Annular Solar Eclipse Events Held by Partners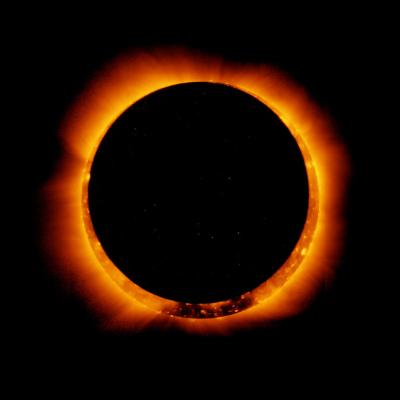 Oregon Museum of Science and Industry (OMSI) in Portland, Oregon: ~86% Totality 
OMSI's early morning event offered coffee, cocoa, and some spectacular space science! Prepared for the usual weather of the Pacific Northwest in October, the museum offered a livestream of totality from inside their planetarium. The plan paid off, as skies did not allow for viewing outdoors. Still, audiences were excited to learn more about space, eclipses, and to be a part of the community "watching" the ring of fire from the path of totality.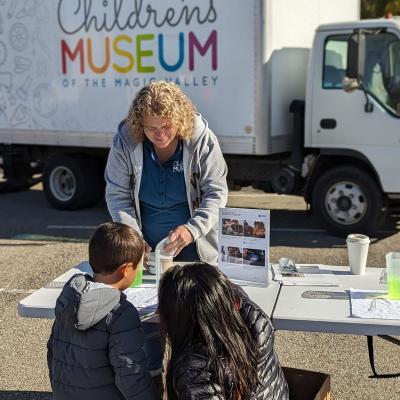 The Children's Museum of the Magic Valley in Twin Falls, Idaho: ~85% Totality
The Children's Museum of the Magic Valley doesn't have a space open to the public just yet, but on October 14th they were ready to educate their community by bringing the science of the eclipse to them. Staff gathered on the future site of the museum and had an amazing morning of safe viewing with free eclipse glasses provided through the NASA Idaho Space Grant Consortium at the University of Idaho. The event include hands-on activities from the NISE Network's Explore Science: Voyage through the Solar System kit. 
Children's Museum of Houston in Houston, Texas: ~84% Totality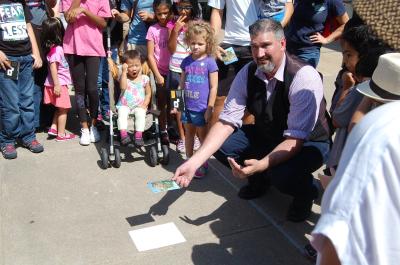 The Children's Museum of Houston hosted a solar eclipse viewing party, offering free eclipse glasses to those watching from outside at the Allen Family Courtyard weather station. Participants could also watch the livestream inside the museum and explore the science behind eclipses with interactive hands-on activities.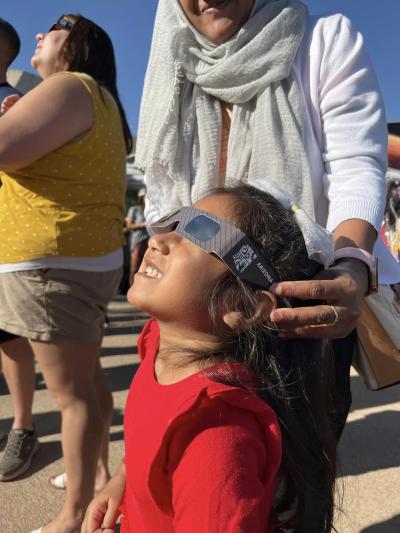 Arizona Science Center in Phoenix, Arizona: ~80% Totality
Arizona Science Center hosted a free eclipse viewing party that took place outside in Heritage & Science Park in Downtown Phoenix. Free eclipse glasses and solar telescopes were provided, and they also encouraged anyone with their own telescope to bring it to the event (requiring proper solar filter for safety). The museum proudly works with Pal Experiences, a nonprofit dedicated to making places more accessible and inclusive for those with additional needs. Through this work, they ensured guests knew what to expect during this event so everyone could get maximum enjoyment out of the experience. Finally, Science Center Members were treated to snacks and space-lets (space-theme bracelets), and everyone who showed up for eclipse viewing received discounted general admission that day.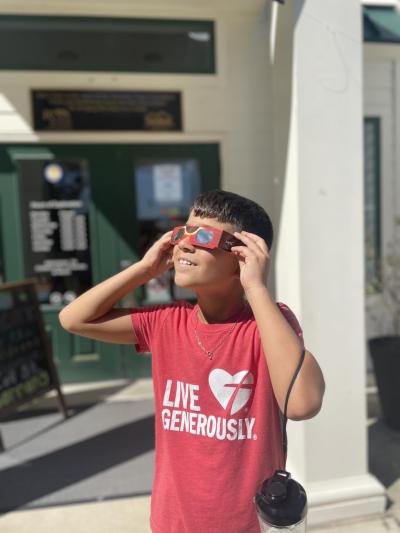 The Children's Museum of St. Tammany in Mandeville, Louisiana: ~78% Totality
The Children's Museum of St. Tammany had two viewing locations, both with clear skies for the October 14th event. First, at the museum, there was special programming from NASA and the NISE Network. Participants enjoyed learning about the Sun's corona with chalk art, discovered different space challenges inside and outside the museum, and could also watch a livestream of the eclipse in their How and Why Gallery. Free solar eclipse glasses and a swag bag were provided thanks to NASA Astro Camp Community Partners. Their second event location was at the Madisonville Annual Wooden Boat Festival, where the museum hosted a table in the Children's Village. They provided eclipse glasses and invited guests to gather at noon to watch the peak of the eclipse together along the Tchefuncte riverfront. At both events, audiences were reminded to save those eclipse glasses in a safe/protected place for the April 8, 2024 Total Solar Eclipse.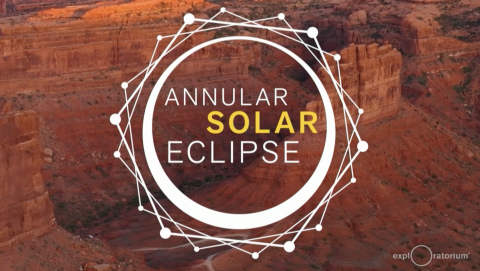 Exploratorium in San Francisco, California: ~76% Totality
The Exploratorium was incredibly busy for the October 14, 2023 Annular Solar Eclipse, just as they have been for every solar eclipse since 1998, when they started working with NASA to send expeditions to sites on paths of totality around the world. Through this work they are able to capture stunning images and livesteams from totality, giving us all a front row seat no matter where we find ourselves during any solar eclipse. We are very grateful for this work; if you missed the October 14, 2023 footage you can still watch livestreams here: https://www.exploratorium.edu/eclipse/livestream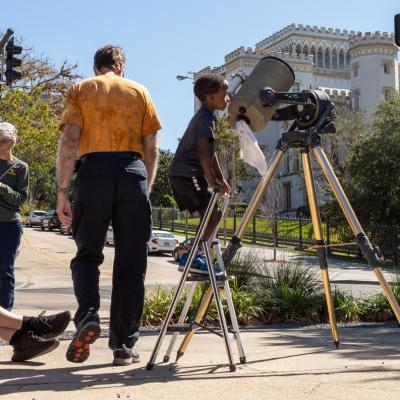 Louisiana Art and Science Museum (LASM) in Baton Rouge, Louisiana: ~73% Totality
LASM had a great day for viewing and hosted hands-on activities from the NISE Network and more on the sidewalk outside of their space. Participants also had the opportunity to engage with NASA Solar System Ambassadors, see an astronomy-themed planetarium show, view images from NASA's James Webb Space Telescope, and view other indoor art exhibitions focusing on astronomy, including Celestial Imaginings and The Art of Looking Up. Finally, the Monday after the eclipse (October 16th), LASM hosted a special edition of their Astronomy and Coffee video series where they further explored some recent eclipse questions as well as other astronomy topics.
Watch the October 16, 2024 episode of Astronomy and Coffee: https://www.facebook.com/theLASM/videos/659881069621371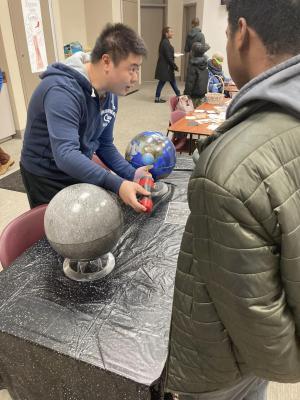 Wayne State University and Planetarium in Detroit, Michigan: ~46% Totality
At Wayne State University and Planetarium, the rain kept activities indoors, but did not affect the fun and learning. Staff were invited to participate in the Black to the Land Coalition's (a coalition of Black, Brown, and Indigenous nature enthusiasts, intent on engaging people of color in meaningful outdoor adventures) Urban Forest School's Eclipse Party. The Urban Forest School is dedicated to engaging the littlest, most curious explorers, ages 0 to 12, and their families. Despite the rain, everyone had a great time talking about eclipses and the Moon through hands-on activities, which included resources from the NISE Network.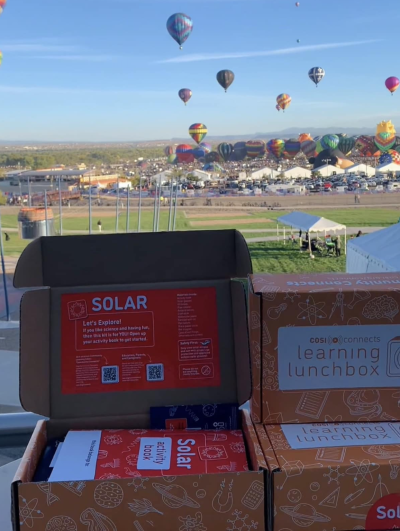 Center of Science and Industry (COSI) in Columbus, OH: ~38% Totality
COSI sent a team to Albuquerque, New Mexico to see totality from the Albuquerque International Balloon Fiesta. Here they distributed 1,000 of their new Solar-themed STEM Learning Lunchbox Kit, made possible through work with the National Oceanic and Atmospheric Administration (NOAA), National Science Foundation, and the Moore Foundation. Each kit includes activities exploring the science of light and magnetism. Each kit also included solar viewing glasses. Staff hope these resources encourage audiences to learn more about our Sun, and help everyone get excited to see totality in April 8, 2024 for the total eclipse. COSI plans to distribute more than 50,000 FREE Solar-themed STEM kits in April across communities and host a big event at their museum to help engage, inspire, and transform.
Learn more about the kit: https://cosi.org/connects/kits/solar-kit
The Maria Mitchell Association in Nantucket, Massachusetts: 29% Totality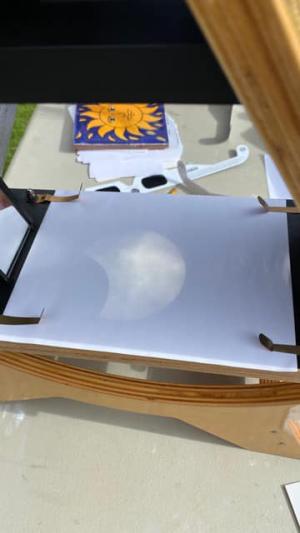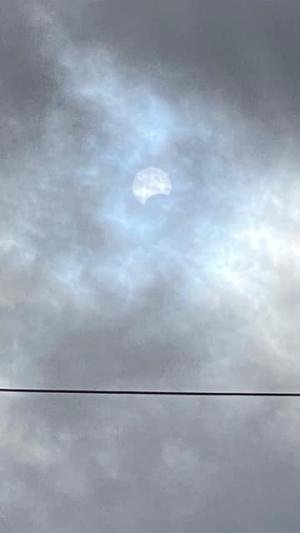 Maria Mitchell offered audiences multiple safe solar viewing options, including free eclipse glasses, solar telescopes, Sunspotters, pinhole cameras, colanders, and several iPads streaming the eclipse livesteam from totality. Similar to others, their morning started out sunny with some clouds rolling in by the start of the eclipse. Fortunately, they kept an eye (safely) on the sky and were able to observe the eclipse through a small break in the clouds right around its peak! 
Thank you to everyone who engaged audiences during this momentous event! We look forward to hearing more about everyone's plans for the 2024 Total Solar Eclipse on Monday, April 8th.