Suggestions for the Exploring Materials- Graphene Activity
March 22, 2012
We've heard that some NanoDays 2012 kit recipients are having trouble getting the Graphene activity to work.  If you can't get the bulb to light, here are a few solutions you might try: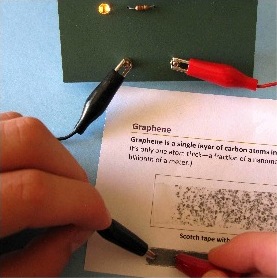 Try printing the graphene cards on regular, uncoated printer paper (or plain office paper)
The file for the graphene card can be found in the catalog, or by clicking here. 
Try pushing really hard on the pencil
Try using mechanical pencils (the kind with refillable lead)
Try touching the alligator clips about an inch apart instead of at the ends of the rectangle
Try viewing the LED bulb from directly above
Try replacing the 9v battery
Let visitors know that they need to make a very dark line on the paper for this activity to work. It is ok if the LED bulb is dim. A dim light is not as much of a "wow factor," but it's still an indication that electricity is being conducted. We hope that one of these solutions will help you with this activity, and we'd love to hear your feedback in the comments section of this blog post– let us know what worked and what didn't.  Good luck with your final preparations!
Happy NanoDays!!