Project overview
Changing Brains is an evolving project of the NISE Network to empower public and professional audiences to experience, talk about, and reflect on personal, community, and societal connections to advancing brain research and related technologies. The ongoing relationship with the Neuroethics Working Group of the International Brain Initiative has led to new NISE Network engagement activities to encourage professional audiences to consider the need and nature of public engagement within their own brain research program and the ongoing work of the growing number of international brain research projects.
An early strategic planning conference for the project with NISE Network partners, scientists, funders, and advocacy groups pointed towards a possible vision of sharing the dynamic nature of the brain with public audiences through more two-way interactions between brain experts and museum visitors. Working closely with the International Brain Initiative and the Kavli Foundation, project leaders explored this strategy through a global landscaping report of brain science public engagement efforts through the lens of neuroethics— systematic, ethical reflection and analysis of both individual and societal issues raised by brain research and emerging technologies. This work was advanced through the Barbara Gill Civic Science Fellow at Arizona State University, supported by the Dana Foundation.
The links below list the available resources and reports of the Changing Brain project. Check back for more updates as this project continues to grow!
---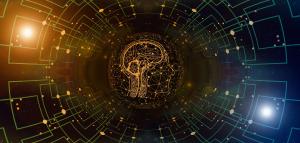 Changing Brain resources from the NISE Network
A collection of public engagement and professional development resources about the brain, neuroscience, and neuroethics. Also included are resources for annual events including Brain Awareness Week, World Brain Day, Mental Wellness Month, and more public engagement events.
New! Hands-on activities to inspire reflection and conversation about future neurotechnologies.
What Makes Us Human — Explore what it means to be human and how humanlike machines might become. In this activity, participants will play a game to sort abilities from most to least uniquely human, before assigning them to robots responsible for specific jobs.
Neuro Futures Card Game  —  Prioritize cards with new neurotechnologies according to your own values and the values of others. In this activity, participants will encounter bionic eyes, memory erasers, mood-sensing earbuds, and other future neurotechnologies with unknown societal impacts.
Neuro Futures Championship Game  —  Pit new neurotechnologies head-to-head using a sports-style bracket.  In each round of this familiar bracket gameplay, participants will debate which future neurotechnology is the most beneficial to society until one is crowned champion.

 
Learn more! Go farther with resources for public engagement with neuroscience.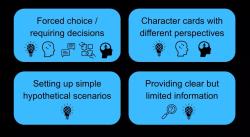 ---
Changing Brains reports from the NISE Network
A Global Landscape of Neuroscience Public Engagement Efforts and the Potential Nexus of Neuroethics
Throughout 2019 the NISE Network, in partnership with The Kavli Foundation and the Neuroethics Working Group of the International Brain Initiative, conducted a series of interviews with neuroscientists, neuroethicists, patient advocates, and educators to characterize the landscape of neuroscience public engagement efforts around the world with possible connections to fundamental questions in neuroethics. This report summarizes the findings from these interviews by describing five different categories of engagement styles in this area, reflecting on the lessons learned from previous interactions between experts and public audiences on other socio-scientific questions, and presenting several cross-cutting challenges and opportunities.
Public Engagement with Neuroscience and Society: Conference Report and Vision for a National Informal Neuroscience Education Initiative
In January 2018 the NISE Network, in partnership with The Kavli Foundation, held a two-day strategic planning conference at The Franklin Institute to conceptualize a national informal science education initiative around brain science. Working with the Society for Neuroscience and other key stakeholders, the conference brought together a diverse group of museum professionals, scientists, social scientists, and other experts in informal science and neuroscience education to assess emerging issues in the field and identify needs and opportunities for outreach and engagement. The report provides an overview of key themes that emerged from the conference and outlines a collective vision to grow public engagement efforts for brain research and technologies. A full conference agenda and a list of participants are also included in the report.
Changing Brains Formative Evaluation Report (2023)
This report covers the formative evaluation for Phase 2 of the project, which involved the development of experiences for public audiences. Experiences were grouped into broad engagement activities (three short hands-on activities designed for public audiences in a variety of settings) and deep engagement programs (one evening program designed for adult audiences to engage deeply in the topic with scientists).
---
Changing Brains engagement activities for professional audiences from the NISE Network
Conversation Lab: Brain Enhancement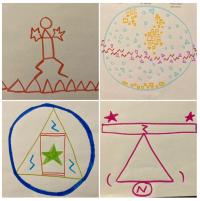 This discussion-based activity encourages participants to consider the ethics of brain enhancement, for example by using electrical devices to boost our brain function. Participants will learn about current brain enhancement technologies from a local subject matter expert and then work in small groups to reflect on how their values might influence both their individual decisions as well as future implications for our society.
Step into the Shoes of Stakeholders
This is a role-playing exercise for professional audiences that encourages participants to consider how they and other potential stakeholders would prioritize public engagement efforts on emerging brain research and technology topics.
Stand Up Sit Down icebreaker
Do you want an activity to energize your professional audience on thought provoking topics around now & near-future brain research and technologies? Use this quick icebreaker where participants vote with their feet and seats by standing up, or sitting down, to show their agreement with potential scenarios.
---
Acknowledgements
The Barbara Gill Civic Science Fellowship program is supported by the Dana Foundation.
The Global Landscape of Neuroscience Public Engagement Efforts and the Potential Nexus of Neuroethics, the Public Engagement with Neuroscience and Society Conference, and resulting training activities were based on work supported by The Kavli Foundation. Any opinions, findings, and conclusions or recommendations expressed in this program are those of the authors and do not necessarily reflect the views of the Foundation.