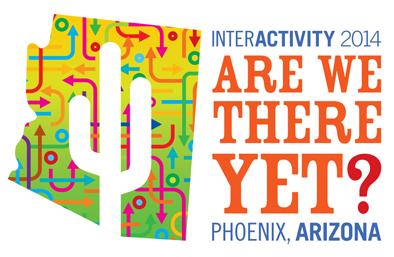 About the Conference:
Theme: Are We There Yet?
Hosted by the Children's Museum of Phoenix
Co-hosted by the Arizona Museum for Youth
Hyatt Regency Phoenix & Phoenix Convention Center
More information: 
http://www.childrensmuseums.org/index.php/interactivity-conference.html
Special Event:
The NISE Network will have fun, hands-on nano activities at the Tuesday evening event at the Arizona Science Center. 
Evening Event: Arizona Science Center
Tuesday, May 13, 7:00 p.m.–9:00 p.m.
Pre-registration required; tickets are $40.
Arizona Science Center welcomes the Association of Children's Museums to Phoenix! Located in Heritage and Science Park in the heart of downtown Phoenix this venue offers 300+ phenomenal galleries and exhibits of immersion and interactivity. Visit with the phenomenal in house Astronomer and explore the Arizona skies and constellations. Experience the thrill of a high-wire physics experiment and ignite your curiosity with live science demonstrations. Visit the gift shop, Awesome Atoms, for some take home trinkets! Rock your best moves on the dance floor, sip on cocktails and feast on cuisine positioned throughout the venue. Don't miss this special night of investigation and entertainment! Spend the evening at the Arizona Science Center and learn the science of fun! Welcome to Phoenix!
Marketplace - Exhibit Hall
The NISE Network will have a booth in the exhibit hall featuring the information and activities.Marketplace - Exhibit Hall
Thursday, May 15, 7:30am-4:30pm
Concurrent Professional Development Sessions
Collaborations: How to Fulfill Dreams and Avoid Nightmares
Wednesday, May 14, 1:15pm-2:30pm
Talk Show: Join a candid discussion about collaborative and network experiences and learn how to successfully navigate the intricacies of working with other organizations to achieve mutual goals. Topics will include dealing with changing personnel, challenging personalities, and differing expectations. This session is intended for museum professionals looking to form new collaborations and networks, or to make their existing partnerships more successful.

Sari Custer, Arizona Science Center
Sam Dean, Amazeum
Keith Ostfeld, Children's Museum of Houston
Betsy Loring, EcoTarium
Jennifer Rei Cameron, Arizona Science Center
Catherine McCarthy, Science Museum of Minnesota
Available resource (PDF):
A Selection of Museum Collaborative Resources
​ACM – Interactivity Conference  - May 2014 Compiled by Catherine McCarthy, rev April 30, 2014
Building Evaluation Capacity
Wednesday, May 14, 1:15pm-2:30pm
World Café: Responding to the growing interest in evaluation and how to better incorporate it into everyday practices across the informal learning community, this session will present practical approaches to help professionals integrate evaluative thinking into new and ongoing projects. Participants will spend about fifteen minutes at each of four tables to learn about a variety of evaluation tools, guides, and tips. The session will conclude with a moderated whole group discussion and wrap-up.

Cecilia Garibay, Garibay Group
Kim Kuta Dring, Stepping Stones Museum for Children
Cheryl McCallum, Children's Museum of Houston
Ali Jackson, Sciencenter
Engaging Bilingual Audiences
Thursday, May 15, 10:30am-11:45am
Lightning Round: Whether you want to reach Spanish speaking or other bilingual audiences and don't know where to start, or you already have bilingual programs and want to enhance your offerings, this session is for you. Learn about available resources and ways to promote and increase participation. Hear what a variety of museums are doing to reach new audiences and take away simple strategies to present bilingual programs in a meaningful, relevant way.

Aaron Guerrero, Children's Museum of Houston
Hardin Engelhardt, Marbles Kids Museum
Renee Guerrero, WOW! Children's Museum
Karlisa Callwood, Miami Science Museum
Brad Herring, Museum of Life and Science
Jennifer Williams, Children's Museum of Brownsville