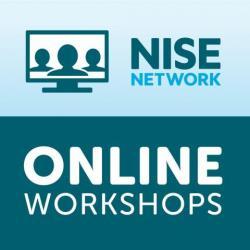 Date
Zoom link available upon RSVP
The NISE Network runs a series of free online workshops to increase the number of professional development opportunities available to our partners, and create more channels for partners to share their work and learn from each other directly.
Online Workshop: Learn about an opportunity to participate in a sustainability fellowship in 2021/2022
Tuesday, February 9, 2021; 2 - 3pm  Eastern / 11am - 12pm Pacific
View a recording of the workshop here
Arizona State University and the NISE Network, with support from the Rob and Melani Walton Foundation and the Institute of Museum and Library Services, will hold two workshops in early 2021 about the Sustainability in Science and Technology Museums Fellowship. Join us on January 12, 2021 or February 9, 2021 at 2pm ET to learn about sustainability projects from past fellows and how sustainability is related to your own organization.
The fellowship, first started in 2016, invites museum professionals from a wide range of organizations to learn about sustainability, build a professional network, and implement a sustainability project. Past fellows have launched recycling and composting efforts, built partnerships with environmental organizations to promote the use of electric vehicles, designed activities to promote the use of nearby nature trails, and raised awareness and action for local food availability. 
Applications are now being accepted for the 2021-2022 NISE Network Sustainability Fellowship program. Staff at 90 museums, and similar cultural organizations, will participate in a series of online workshops to develop a sustainability-related project at their organization while developing relations with a broader community of practice. Participating museums will receive a stipend. Applications are due March 15, 2021. For more information about the NISE Network Sustainability Fellowship and to apply please visit the Fellowship page: https://www.nisenet.org/sustainability-fellowship

Read more about the past Sustainability Fellows' projects:
---
Acknowledgements
The Rob and Melani Walton Sustainability in Science and Technology Museums program is supported through funding from the Rob and Melani Walton Foundation.