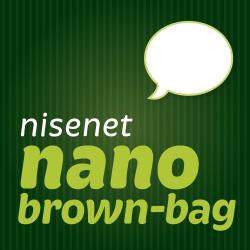 The NISE Net runs a series of online brown-bag conversations focused on helping partners share their work and learn from others in the Network. The aim of the online brown-bag conversations is to increase the number of professional development opportunities available to our partners, create more channels for Network partners to learn from each other directly, and create ways for partners to follow-up on ideas or efforts that emerge at in-person meetings.
Beyond NanoDays: New Ideas for Presenting the Smallest Science
Monday, May 18, 2015
1pm - 2pm ET / 10am - 11am PT
Organizer: Lizzie Hager-Barnard, Lawrence Hall of Science (UC Berkeley)
Presenters
Kim England, California Academy of Sciences
Lisa Schoenbrun, El Paso Exploreum
Margie Marino and Nora Sampaio, North Museum of Nature and Science
Everyone loves NanoDays festivities, but how do you keep people excited about nano the rest of the year? Join us to discover the innovative ways your colleagues are introducing nano outside of NanoDays! We'll learn how partners are incorporating nano into nature detective activities, take-home workbooks shared at public events such as minor league baseball games, and exciting flash mobs. Come and learn some new ways to present the smallest science!
Resources