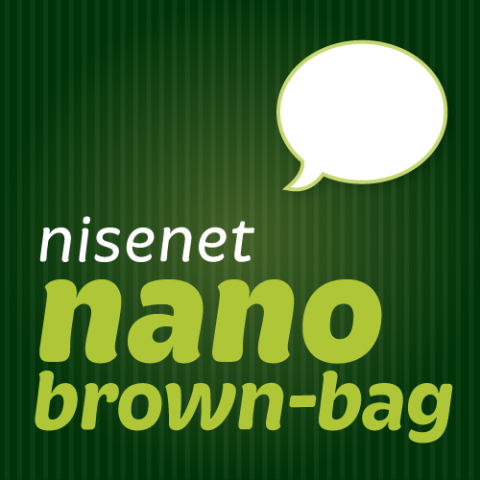 The NISE Net runs a series of online brown-bag conversations focused on helping partners share their work and learn from others in the Network. The aim of the online brown-bag conversations is to increase the number of professional development opportunities available to our partners, create more channels for Network partners to learn from each other directly, and create ways for partners to follow-up on ideas or efforts that emerge at in-person meetings.
Nano and Society
March 4th, 2014
10 - 11 am PST / 1 - 2 pm EST
Presenters
Brad Herring of the Museum of Life and Science
Jamey Wetmore and Ira Bennett of Arizona State University
Douglas Coler of Discovery Place Inc.
Kevin Dilley of Sciencenter
This online brown bag is designed to empower museum educators to engage visitors in meaningful conversations about the relevance of emerging technologies to our lives. The NISE Net and the Center for Nanotechnology in Society at Arizona State University have collaborated to develop a variety of practical and tested resources to help prepare science museums to connect with our communities and make the experiences we offer relevant to visitors' lives. Participants will learn key concepts about the relationships between  science, technology, and society, and receive specific training for having conversations using activities in the NanoDays 2014 kit.
Resources