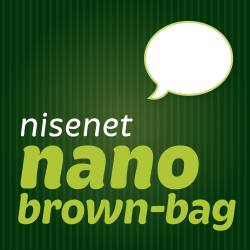 The NISE Net runs a series of online brown-bag conversations focused on helping partners share their work and learn from others in the Network. The aim of the online brown-bag conversations is to increase the number of professional development opportunities available to our partners, create more channels for Network partners to learn from each other directly, and create ways for partners to follow-up on ideas or efforts that emerge at in-person meetings.
Nano in Food
November 13, 2013
12 - 1 pm Pacific/3 - 4 pm Eastern
Presenter
Frank Kusiak, Lawrence Hall of Science
It's that time of year to cook and eat until your heart's content. Will nanotechnology make an appearance on your plate this year? Maybe! We'll discuss how nano and food intersect. Plus, we'll demonstrate how to make your own gummy worms on the cheap and how to take the demo home and wow your dinner guests!
Resources